Come in, join in: Open Parent-Child Meetup "Drop-In(clusive)" in Seeheim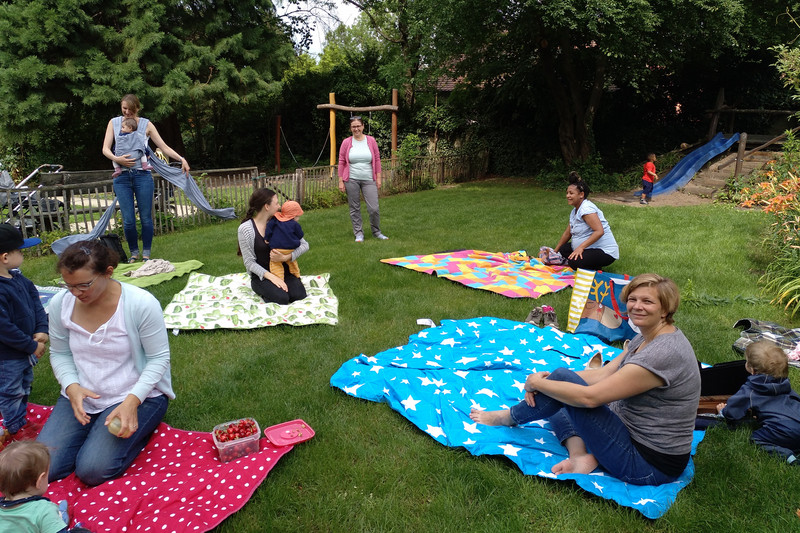 Parents of babies and children up to three years meet on every Thursday morning at the Lutheran Pfarrer-Reith-Haus in Seeheim to chat about their daily lives as a family and to get to know other parents. If desired, events with trained professionals can be organized to address topics regarding childrearing, nutrition, or childhood development. These events are organized by a qualified family counsellor, who is also available for families who require some added assistance or who need help finding additional resources.
The open meetup is offered by the Women's and Family Center SzenenWechsel ("Change of Scenery") in Seeheim-Jugenheim in South Hessen. The family center is designed to be an intercultural meeting place that offers education, advice, and assistance to women and families. Located in the former forestry building in Jugenheim – neighboring the local deaconry and a residence for individuals with dementia – the center offers families a wide spectrum of assistance and input, from a daycare center and baby/toddler play groups, to evening events for mothers and fathers, to a wide variety of courses and lectures.
"Drop-In(clusive)" was funded as a model project by the state of Hessen, but after this source of public funding has been challenged, the family center urgently needed new supporters to be able to continue to offer the program. For the past two years, SAGST has been covering a portion of the costs. "What is effective about the program is its low-threshold entry," says SAGST project manager Jens Maurer. "Without complicated registration, parents can find new contacts and, if desired, get assistance from the organization. Families with support needs and potential family crises can be recognized early on and offered the required assistance – and that strengthens families and parents in their daily life and empowers them to better handle the challenges that arise."