Darmstadt: "Rotzfreches Spielmobil" celebrates 30-year Anniversary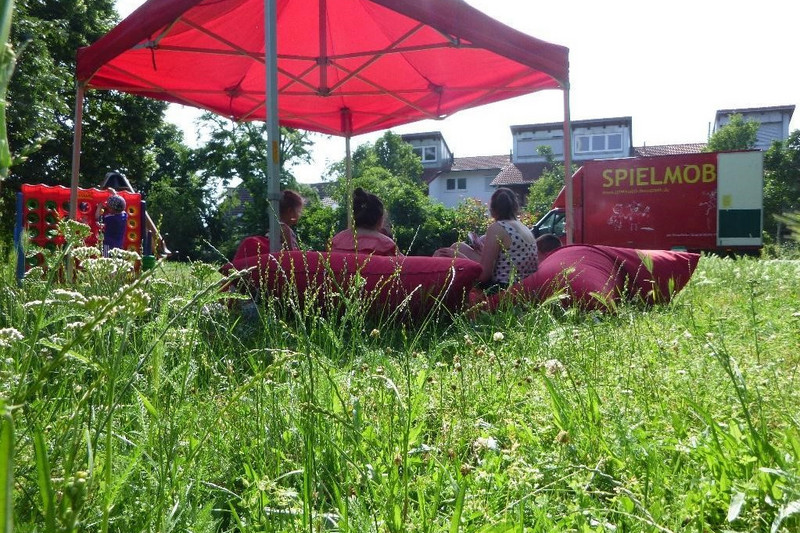 The "Rotzfreche Spielmobil" is a Darmstadt tradition. For three decades, the red and yellow play bus has been visiting public squares to invite children and young teens in Darmstadt to exercise their right to play. What is so special about the bus: the team brings balls, stilts, outdoor board games, and much more to get everyone – from small children to teenagers – up and moving. Painting, face paint, and crafts are all part of the invitation to participation, and everything is free of charge.
This year, the bus celebrates its 30th anniversary. Every week, the team erects a tent on a different location in the city. The idea was initiative from a self-organized youth organization (SJD – Die Falken), where children stood up for their own rights, which in turn developed from a worker's movement. In 1990, Die "Falken" founded their own organization to run the "mobile playground," the one and to date only such bus in the city. It has a remained a great success to this day. Every year, over 5,000 children and youth are motivated by the play bus to take the opportunity to play outside in the fresh air, make new friends, and learn about participation and self-empowerment. Jana Weische from the Software AG Foundation explains that the play bus brings "very different groups into social exchange."
This is exactly what the foundation wants to strengthen, which is why the foundation decided to financially support the so-called "Freundschaftsmobil." Since 2015, from March to November, the bus has been visiting public squares near residential homes for young refugees in Darmstadt, bringing together children with and without refugee backgrounds in play. The goal is to create a bit of variety and fun in the children's lives, to create room for new experiences and new relationships, and contribute to a successful start in the city. "In the past five years, over 1,000 girls and boys with refugee backgrounds have profited – just as much as all the others who participated together with them in the diverse programs of the 'Freundschaftsmobil'" notes Jana Weische, describing the success of the program.