Environmentally Friendly Construction and Experimental Living at Schloss Tempelhof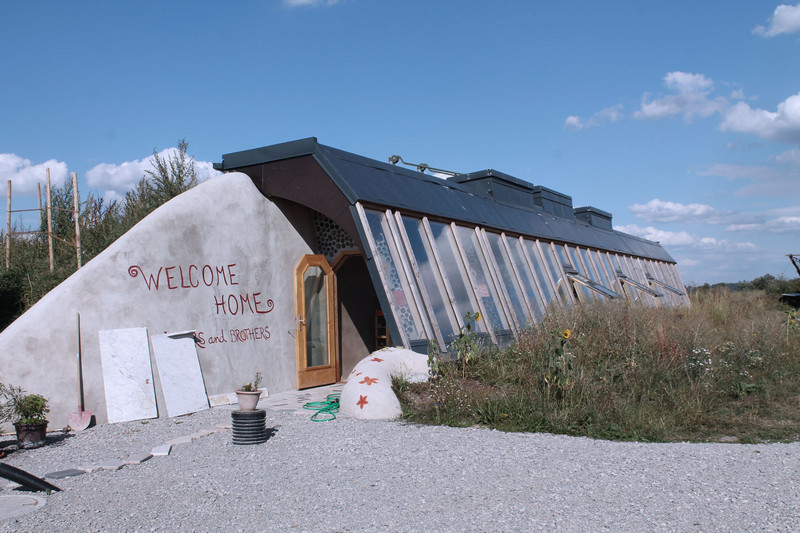 How self-sufficiently do we want to live? How CO2-neutral can our lives become? How do we construct eco-friendly buildings that protect our resources? Five years ago, questions like these were the impetus for the Schloss Tempelhof community to construct the first Earthship in Germany. The community is a living and residential experiment where, in addition to trying out new forms of social cohabitation, the community is also exploring more sustainable methods of construction. Further areas of experimentation include sustainable agriculture, free schooling, and educational opportunities for community development.
The Earthship concept was developed by American architect Michael Reynolds, who has been experimenting with recycled materials since the 1970s. Around the world, unique buildings have been constructed according to his model and following a simple principle: communally-built from the so-called "waste products of civilization" – car tires, beer bottles or glass bottles – they focus on reduced consumption and self-sustainability in terms of energy, water, and food. The aim of the Earthship is to enable a fully self-sufficient lifestyle that is independent of urban supply systems and in harmony with the environment – similar to a self-sustaining spacecraft that allows astronauts to survive in space.
In the Tempelhof community, the Earthship serves as a central point of provision for the surrounding settlement of caravans and yurts. It provides residents with a kitchen, bathroom, and community rooms. People, building, and environment exist in tightly knit unity, sustained by practical usage cycles. For example, the collected rainwater – used for showering and laundry, among other things – is filtered by a greywater planting bed, where the water serves as a source of nutrients for the plants. Phosphates and nitrogen from organic detergents support the plants' growth. A similar system exists for energy and heat production, in which case the builders have made use of photovoltaics, insulation materials, and heat cycles.
The innovative building and living project was the subject of a study carried out by Alanus University in Alfter, near Bonn, which was supported by the Software AG Foundation (SAGST). The goal of the study was to determine whether the Earthship Tempelhof could be considered a model for rural areas of Germany. "For architecture students and for future-oriented residential planning, in particular, this type of concept is highly interesting, although it is naturally necessary to ask whether the construction materials are still up-to-date. Here, we are in need of new visionary ideas," said SAGST project manager Andreas Rebmann, who sees an opportunity to further develop the Earthship idea.