Global Waldorf Exchange: Wal-di.com Supports the Networking and Exchange of Waldorf Students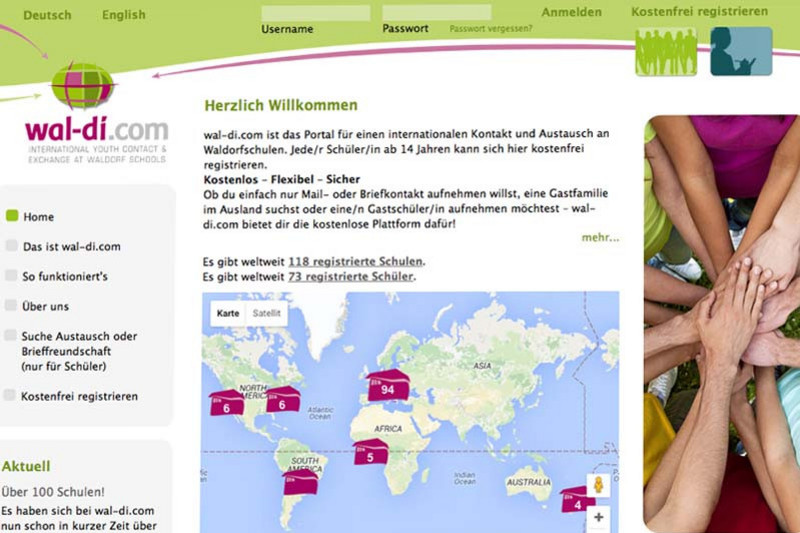 Finding new friends in other countries, going to school abroad for a few months of even a year - many students want to use their school years as an opportunity to experience other countries and cultures. The online portal wal-di.com offers Waldorf students the opportunity to make friends around the world and to locate host families - free of charge.
How do I find a penpal at the Toronto Waldorf School in Canada? Is there a way to organize an exchange with a Waldorf school in Norway? What does an average school day look like for students at Michael Oak Waldorf School in the South African capital of Capetown? Intercultural connections between young people are fun and expand their horizons. Many students at Waldorf schools are interested in making friends abroad or even in spending time in another country. This is a logical development for Waldorf students: after all, Waldorf education is an international movement with move than 1,000 schools worldwide, on every continent. The search for a fitting guest family or an exchange student can be difficult, however: although many German schools have partnerships with international schools, the opportunities are often quite limited. The majority of study abroad experiences are managed by agencies, which are often expensive and lack flexibility.
In a digital age, this was almost an anachronistic situation. Anke and Andreas Patzelt, parents of former students at the Rudolf Steiner School in Lüneburg, saw the situation this way as well. They started thinking about an online portal that would make international exchanges less complicated, but still safe. The two graphic designers spoke with students, parents, and school representatives about their needs. With this information they developed the "Waldorf Direct Community" platform at wal-di.com. To make sure that the desire for a student exchange wasn't hindered by financial obstacles, the developers made sure that young people could use the portal for free. And unlike commercial networks such as Facebook and co., the portal has high data privacy standards, and no data is given to third parties. To ensure additional security, schools must officially register and verify the names of participating students.
The site's founders use the word "exchange" broadly: "The primary purpose is not to increase or perfect language abilities and to find an exchange opportunity in England or America for that purpose," emphasize Anke Patzelt. "Exchanges with other young people around the world allow students to gain insights into other cultures, ways of thinking, and the daily life of other cultures and other Waldorf schools," adds Andreas Patzelt. "Especially at this age, it's a wonderful opportunity to remove barriers and prejudices, to gain new acquaintances and friends, and to connect people around the world on a permanent basis." This can happen in a number of ways: with pen-pal exchanges or with shorter or longer stays abroad. Since 2015, the website has been accessible online in German and English. As of January 2016, around 120 schools have registered. The majority have so far been European schools, but schools from North and South America, Africa, and Australia have registered as well.
To implement such a project, the initiators needed strong partners. That's why the Software AG Foundation, as well as the Association of Waldorf Schools, supports the innovative platform. "The Waldorf movement has a long tradition of mutual support and international networking. It seems only fitting that a portal like wal-di.com would uses the opportunities of digital technology to support further development in the area of student exchange," said Andreas Rebmann, project manager at the Software AG Foundation. "When students connect in this way, their horizons expand. And, as a consequence of these personal contacts, Waldorf schools around the world will be networked more closely. As a foundation, we see this as a promising social seed that deserves support." Although initial funding was provided by the Association of Waldorf Schools and Software AG Foundation, the lasting success of the project will depend on additional supporters.