"Inspiration Biene" (Bee an Inspiration)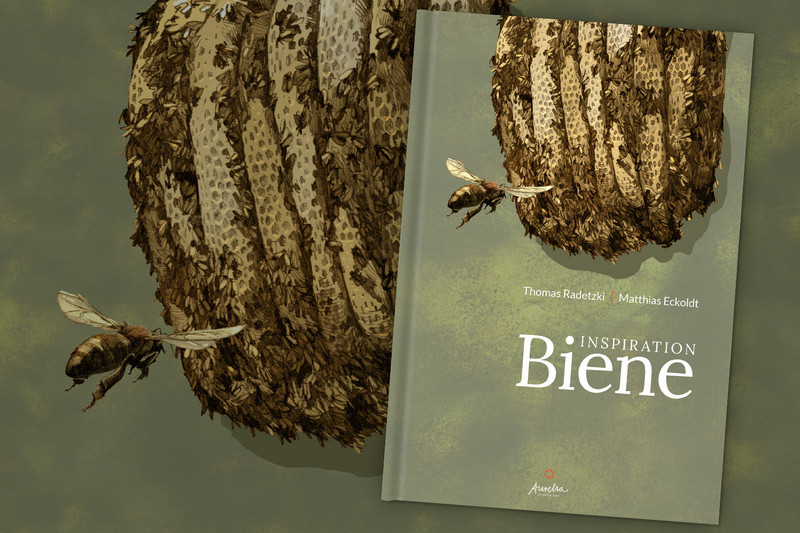 "If bees die out, human beings will also die four years later." Whenever you hear something about the importance of bees in our society, this quote is always included. It is not attributed, for example, to the first US President George Washington, who is said to have kept bees because he was crazy about honey cake, or the New Zealand beekeeper Sir Edmund Hillary, who achieved the first ascent of Mount Everest in 1953 with a five-pound jar of honey in his backpack. The source of the quote is usually thought to be the physicist Albert Einstein, who is not known to have ever had any special relationship with bees.
In the meantime, we know that Einstein most probably never came up with the often quoted saying. Nonetheless, it fits well with the "Inspiration Biene" (Bee an Inspiration) project, in which scientific skills meet a holistic approach to education. In addition to the extensive teaching materials, which authors from all over Germany have developed, it also includes a 160-page textbook, which appeared in early 2020 as a joint publication of the Aurelia Foundation and Klett Mint, an agency for educational communication that belongs to the Klett publishing group.
The intention of the book written by Thomas Radetzki (bee ambassador and Aurelia board member) and Matthias Eckoldt (science journalist and bestselling author) is to astonish the reader with the phenomena of nature. However, as the title suggests, it seeks not only to fascinate the reader with its stories from the world of bees but also to inspire you to think and act.
"Inspiration Biene" (Bee an Inspiration), as it says in the foreword, "invites you to join a voyage of discovery, on which you can listen with curiosity as you get close to the essence of bees and always find out something about the principles of life at the same time". This rapid journey through the hive, TV presenter Max Moor says about the book, shows emphatically "that we will only save the wild and honeybees when we understand how to save ourselves".
Against this background, the Software AG Foundation (SAGST), which keeps around a dozen bee colonies itself, is happy to take part in this project and provide financial support for the process as well as produce 12,500 copies. They will be given not only to interested teachers free of charge. At the end of March, the first books were sent out to more than 3,200 addresses in Germany and further afield. "At Didacta 2019", SAGST project manager Andreas Rebmann is pleased to report on the book's impact, "educators from Belgium, France, Greece, the UK, Italy, Luxemburg, Norway, Austria, Hungary, Switzerland, the Netherlands and China became aware of this educational project." In the meantime, around 9,000 books have been printed and distributed.