Lived Integration for Individuals with Mental Health Challenges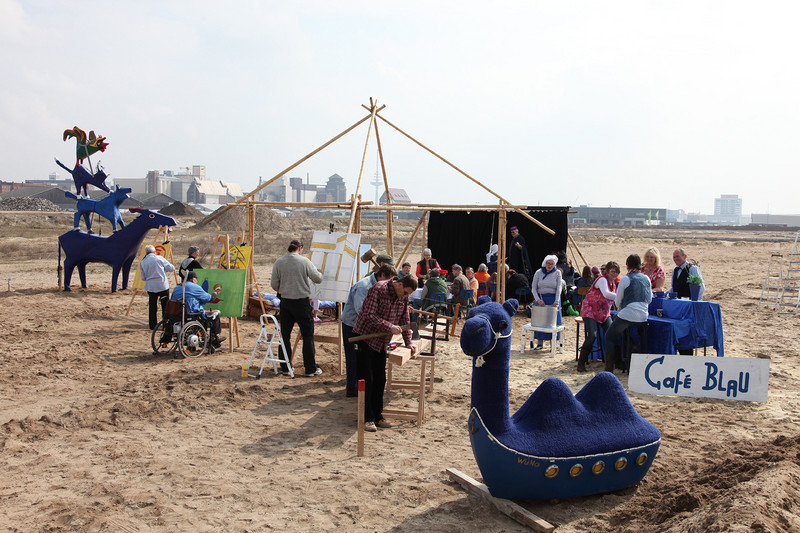 Since the 1980s, the "Blaue Karawane" (Blue Caravan) in Bremen has been promoting creative engagement and practical integration for individuals who have experienced mental health challenges. The Blaue Karawane's approach makes intentional use of Community Orientation (SRO), a holistic treatment concept in the field of social work. SRO views the individual holistically, taking into consideration his or her entire field of social and spatial relationships, individual opportunities for participation, and all aspects of life. The goal of SRO is to support individuals in shaping their own life stories.
The Bremen-based initiative was founded after the closing of the psychiatric clinic Kloster Blankenburg in 1988. Driven by a desire for general change, a number of patients, clinic staff, and interested citizens as well as artists joined together to establish the "Blaue Karawane". Together, the members of the political-creative collective travelled from Trier to Bremen, via nine other cities, in order to raise awareness with artistic, sometimes provocative activities. Their main aim: the rejection of institutionalized psychiatry focused on sedating – rather than stimulating – psychiatric patients.
Even after the clinic was closed, the diverse community remained tightly connected and began to search for a new location for meetings and debates. In Travemünder Straße in Bremen they found a permanent location and "settled down." In addition to offices, the location offered space for lively discussions and common activities. One year later, they also opened the "Café Blau" as a meeting place for the Bremen-Walle neighborhood. At the end of the '90s, the idea for the "BlauHaus" arose – a place where people could meet to discuss politics and create art in ateliers and workshops.
Today, almost twenty years later, the organization's success story is taking a new turn: in Überseestadt in Bremen, they are establishing a multigeneration residential, working, and cultural project together with the communal building organization GEWOBA. A total of 83 apartments and three accessible living communities was created for individuals from various social backgrounds living in this neighborhood. Cooperation with Martinsclub e. V., a well-established organization promoting inclusion for individuals with disabilities, will ensure that individuals with assistance needs can also be cared for. In addition to walk-in care, there is an assisted-living community for individuals with dementia.
The inclusive living concept also includes a neighborhood office, an integrated daycare and kindergarten for around 60 children with and without assistance needs and a newly built community center. The so-called "Blue Arena" offers 671 m² of space for residents, neighbors, and other participants. There is room for joint artistic and athletic activities. The programming ranges from theater, music, and educational events to art groups, ceramics, and woodworking workshops for those with and without psychiatric impairments.
Contributions and donations will help to ensure that rent remains affordable.