Making sure that the first Day of School is easy: "familY" is good for Parents and Children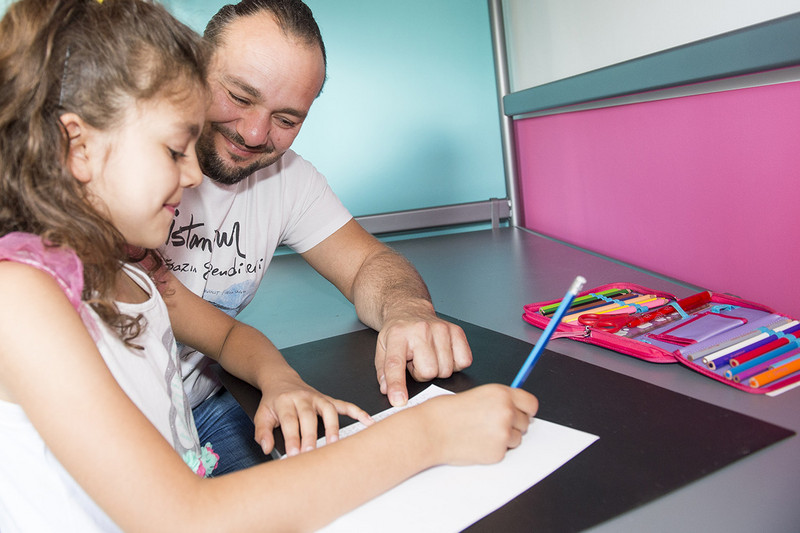 A schoolchild at last! Making the transition from kindergarten to elementary school would usually mean a major step for just about any family. Sometimes, however, it also presents greater challenges and issues: How will my child get used to the daily school routine? Will he or she miss the freedom to play, from the kindergarten days? And what is expected of us parents? Legal guardians with educationally disadvantaged backgrounds or having experience of immigration are often made very nervous by such questions – for example, because their own experience of the school system in their native country can often not be compared with the circumstances in Germany.
This is where the "familY" program of "EDUCATION Y" comes into the picture. The educational organization is dedicated to creating solid educational opportunities for all children and young people, irrespective of their origin. With a network geared towards families whose children are about to start school, "familY" is dedicated to a common creed, viz: "Family creates opportunities" ("Familie schafft Chancen"). In twelve meetings, over an 8-month period, it provides support for mothers and fathers, and makes them aware of different aspects of learning – for instance, that their children can acquire skills which promote their independence in a playful manner in many everyday situations. Meeting with so-called "familY supporters" and other families, the parents acquire additional knowledge: What can they do to create a suitable learning environment? How can they prepare for the child starting school? What role do sleeping and eating habits play, or even the use of media in the home?
After "EDUCATION Y" had already successfully rolled out the program in Berlin, Dortmund and Munich, in 2017 it was also kicked off in Frankfurt am Main – in the first three years, with sponsorship support from the Software AG Foundation (SAGST). It has partnered with the International Family Center (Internationales Familienzentrum, IFZ), which has been working to help people with experience of immigration since 1974. The center has created a city-wide support network, and, with nine "familY" groups annually, reaches out to parents from 14 day care centers, as well as additional family support programs in five districts of the city. "We are very pleased that the program is now fully embedded in Frankfurt", comments Elke Rahmann, the person in charge of the project at SAGST. "Transitions, such as the one from kindergarten to elementary school – or also, at a later date, from elementary to secondary school – are key moments in the educational biography of any person. If a child can handle this well, it is a valuable experience for him or her – and, furthermore, is the prerequisite for his or her further development."