Making Waldorf recognisable as added Value: Alanus Master's Degree in Waldorf Education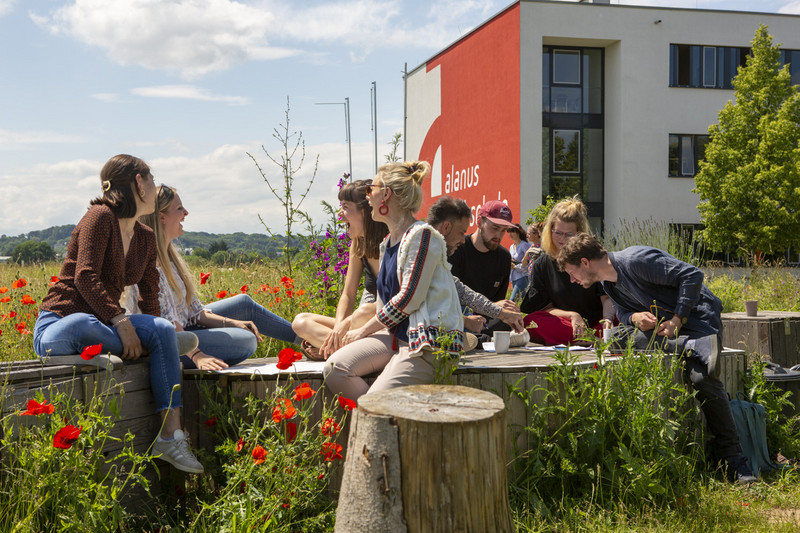 Waldorf schools are looking for new talent everywhere in Germany. Every year, around 600 new teachers are needed – with the best career prospects for students at the Alanus University of Arts and Social Sciences in Alfter near Bonn. The private university provides comprehensive training for class, specialist subject or sixth form teachers. "We have had a close strategic partnership with the Alanus University since 2002", explains SAGST project manager Christoph Teixeira. "We want to establish healing and Waldorf educational concepts in science and the community and help make the appropriate facilities sustainably secured in their continued existence. The training and further education of instructors and teachers plays a major role in this."
Many aspiring educators would like to have part-time, practical courses of study. This is also the case for Ariadne Stickel (31) and Thilo Erythropel (32), who deliberately opted for the master's degree course in Pedagogy/Waldorf Education in Alfter. Both are currently in their sixth semester and would like to work as teachers in a Waldorf school after they graduate. Parallel to her studies, Ariadne Stickel also works as a group leader in after-school activities at the Waldorf School in Cologne-Chorweiler. Thilo Erythropel heads an after-school activity group at the Rudolf Steiner School in Hamburg-Wandsbek and is committed as a teaching assistant in block teaching courses for various grades. In the interview, they both report on how they experience studying at Alanus University.
Why did you choose Alanus University and Alfter as your place to study?
Ariadne Stickel: I looked at various colleges and places to study. After the open day and a meeting with the course director Jost Schieren, I was so inspired that I even sat in on lectures. After that it was clear that I wanted to study at Alanus University. More so than in other places, I had the impression in Alfter that I could expect course content I could get to grips with and would strike a chord with me. At the same time, I immediately felt how appealing the method of teaching was.
Thilo Erythropel: I came here from Hamburg to check it out and was also immediately impressed. One very pragmatic reason for me was also that studying in Alfter is the only master's degree course in Germany that you can do part-time.
"Real people instead of registration numbers" – your university uses this motto to advertise itself. What makes it different from other university institutions?
Ariadne Stickel: Quite a few things. I previously studied at the Free University in Berlin, which is of course a lot bigger. But I feel studying at Alanus University is much more personal. You have no chance to escape – in a positive sense. Our close connections with the lecturers enable us to learn in a different way. I notice real interest and a lot of commitment on the part of the teachers.
Thilo Erythropel: That's true. Everything's done in a fairly informal way here and the course structure probably plays a role in this too.
In what way?
Thilo Erythropel: We don't just sit in seminars taking on theoretical input, but we also engage in eurythmy, painting or music. I believe all of this promotes the sense of being a human being and not just someone absorbing knowledge.
Ariadne Stickel: Exactly. For me, studying at Alanus University is a very condensed time. There's a whole lot of community activities and I'm mentally so stimulated as I may never have been before. We laugh a lot but still – and there's no contradiction here at all – we learn a lot too.
A major concern of the educational courses in Alfter is the dialogical connection of reform and Waldorf education on the one hand and general educational science on the other. How do you see this approach personally?
Ariadne Stickel: The fact that we also have lecturers from educational science and not only from the reform pedagogy sector creates a discursive, sometimes even controversial environment. This is very helpful in seeing Waldorf education in a broader context. I would find it difficult to study Waldorf education in isolation without including current scientific knowledge as well.
Thilo Erythropel: This discussion is not only important in order to be able to deal with the corresponding criticism, for example, but also something special nationwide. It doesn't often happen that you open up in this way, invite critics and attempt to enter into a dialogue. It's about making Waldorf identifiable as added value. And successfully, as many Waldorf educational elements and methods are also recognised in the state school system today.
Your studies are not all about academic reflection but also about attaining practical educational skills. How is this demonstrated specifically?
Ariadne Stickel: Alanus University cooperates with the Waldorf Seminar in Kassel. Study blocks of three weeks each take place there twice a year, in which we practise almost exclusively skills that prepare us well for our subsequent jobs in schools. But there are also many practical elements and role games in the rest of our studies. For example, we practise holding parent evenings. Or we imagine being in a second class and introducing a specific subject. We then prepare something like this in pairs.
Another special item is the interdisciplinary and mixed grade general studies, called Studium Generale, as an essential part of all the courses. So, what does this involve?
Ariadne Stickel: The focus here is on dealing with philosophically oriented issues that actually affect us all as human beings. This would basically make sense at every university and for every course, as this kind of studying is not subject-specific but confronts us with questions about philosophy and education or art and society.
Thilo Erythropel: The general studies programme is not primarily about educational issues. As the name says, access to it is holistic. We paint, for example, in order to experience the artistic process ourselves – for our own development, not to learn how we can communicate art to others.
Alanus University emerged from an anthroposophically oriented art studies site. What role do the artistic and anthroposophy play in your studies, but also for you personally?
Ariadne Stickel: The artistic element plays a major and significant role. That surprised me at first. But it turned out to be very positive, because the art quickly led to a group dynamic, which also has a positive effect in other subjects. Anthroposophy is of course also of great importance – Waldorf education is based on it after all. Even though some things were familiar to me, I find a completely different approach to anthroposophy here. I experience a lively, contemporary but by no means arbitrary way of dealing with it, which also helps me in my practical work with children. This becomes particularly clear in our part-time version of the course, as we can implement the anthroposophic propositions in anthropology, for example, directly in our everyday routine.
Thilo Erythropel: I feel exactly the same way. In my work with children, I adopt a different attitude as an educator. When I consider children, I tend to ask myself how they are actually going to impact me rather than what I have to invest in each child so they will live up to certain social or economic obligations. I appreciate the undogmatic way of dealing with anthroposophy and that we make an attempt to reinterpret it to some extent. As far as the artistic element goes, I'm exceptionally grateful that I can live through this. Plus, I believe it also helps me in my job, because it promotes creativity and inquisitiveness. The fact that art has such an important significance was a major reason for me why I want to become a Waldorf educator in the first place.

An essential requirement for the Pedagogy master's degree course in part-time is that you have already completed your first university degree – preferably in a subject relevant to teaching. In addition to teaching general educational skills, the core elements of the course are didactic Waldorf education training based on Rudolf Steiner's findings but also in-depth content from the fields of educational science, developmental psychology and neurobiology. Beyond this is a host of artistic and general educational content on the curriculum of the very mixed student community in terms of age, origin and career development. The focus is on the individual and his or her development to becoming an authentic and responsible person.