Room for Nature Experiences and Intercultural Contact: Urban Neighborhood Farm in Hannover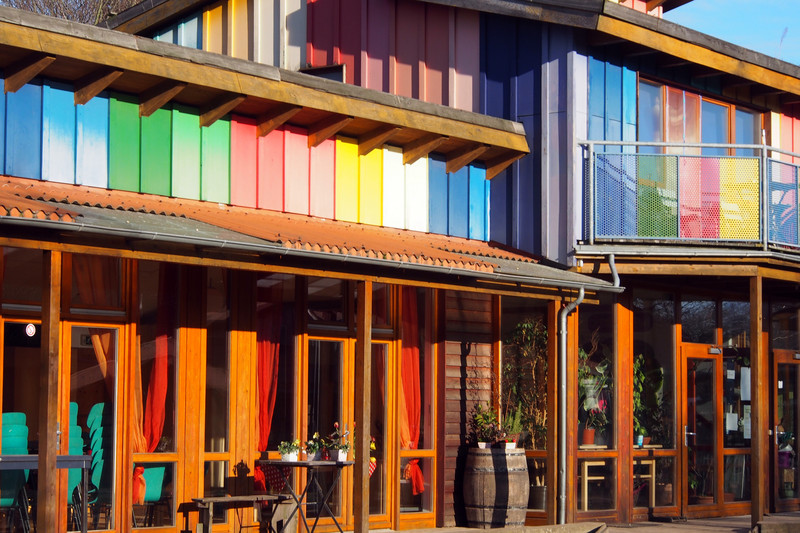 People from around 60 different countries live in the Sahlkamp neighborhood of Hannover, which has the highest population of children in the city. In addition to a large number of single-family homes, the quarter is also defined by the presence of large apartment complexes. About half of the residents have a migrant background. In this inner-city area, a neighborhood farm has been in operation since 1992. Its goal: city development through integrated work with children and young people as well as a close network between parents, local educational establishments, and youth aid organizations.
The encounter between people, animals, and nature is the focus of the diverse activities that take place at the urban neighborhood farm in Sahlkamp. Individual handicaps are as unimportant here as social status or cultural background. The farm, with its diverse offer of nature- and experience-focused pedagogical activities, has become an important base for families from a nearby residence for refugees, as well. The programs and opportunities for involvement are inclusive and aimed at children of any age, from preschoolers to teenagers. With respectful interaction with another, there are diverse opportunities to get to know – at first hand – oneself, the local natural environment, and the animals who live there.
The project places particular emphasis on "continuous, participatory programming that intentionally leaves creative room," says Angelika Bergmann, pedagogical director and managing director of SPATS e.V., the organization that founded the farm. This is a foundational experience for young people growing up in a rather anonymous environment that offers few other enriching opportunities. But at the urban farm, the participants get to know each other and work closely together: when caring for ponies, sheep, goats, donkeys, pigs, chickens, and other animals, or when working together in the gardens. Furthermore, activities such as wool making, cheesemaking, and woodworking are regularly on offer. Hands-on activities and seasonal nature experiences with the group stimulate the children's development and offer space to explore and expand their creativity. Physical exercise and fresh air are part and parcel of the program, as is learning with and from one another.
In order to better meet the individual needs of the children and youth in the future, the organization is undertaking a complete restructuring of one hectare of the expansive property. This restructuring enables them to create various customized areas for morning and afternoon activities and to expand the spectrum of educational programs. In addition to creating a special "family island" – an afternoon meeting place for parents and small children – they also renovated the existing workshops. In the center of the farm, they also built a large outdoor kitchen. Targeted renovation and expansion work on the main building was designed to meet the growing demand for childcare programs for young children. Since 2018, the building has housed two nature-focused kindergarten groups, each with 22 preschool-aged children, as well as a separate daycare group: the Donkey Friends and the KITA Wigwam. The KITA Wigwam is managed by a cooperation partner, the Verein zur Förderung der Kinder- und Jugendarbeit im Stadtteil Sahlkamp e. V.
These measures, which also included building a barrier-free entrance as well as handicap-accessible restrooms, were supported by the Software AG Stiftung (SAGST) of Darmstadt. "The holistic, socially-oriented approach and support for young people, leading to healthy and environmentally-conscious individuals, were convincing for us," said Konrad Lampart in explaining SAGST's involvement. Lampart, the responsible project manager, emphasized: "Care for animals and experience in nature are of special importance, particularly for children in a social disadvantaged environment. Here, they have created a child-friendly oasis that offers important development opportunities for the whole family."