Spirituality in Childhood: Growing Up with Trust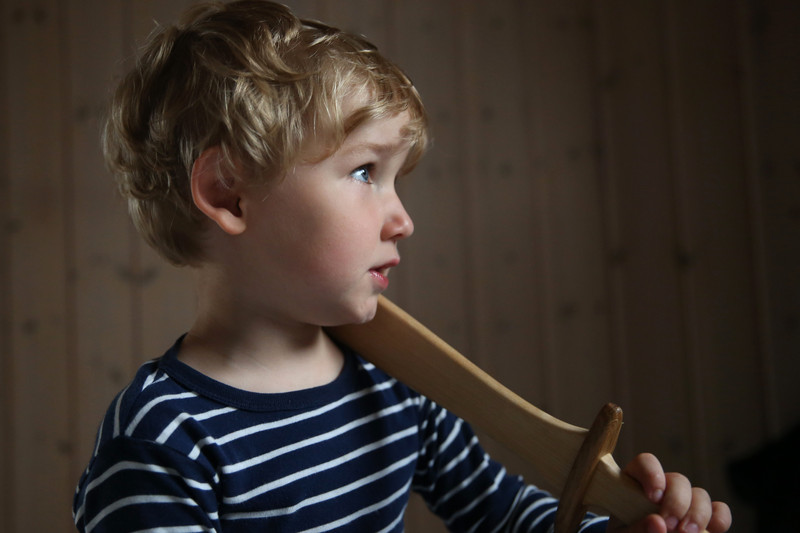 Children are full of wonder and reverence as they discover the world. Every day, they encounter countless small miracles. The spirituality involved in observing a sprouting seed of grain or the transformation of a caterpillar into a butterfly offers an invisible source of strength for body, spirit and soul, allowing children to develop with trust. This is revealed in the celebration of the seasons in a Waldorf kindergarten as well as in our conversation with experienced pediatrician Prof. Dr. David Martin.
Community and Inner Strength as Inner Resources for Life
Outside, dawn is breaking. On the dew-damp grass lies a silvery net that softly covers branches and spiders' webs. Inside, a candle is lit. Its light provides a warming contrast to the unusually cool temperatures outside. The date is September 29, a particularly important day for the children and teachers at the "Zipfelmütze": Today, the Waldorf kindergarten in Limburg is celebrating the feast day of St. Michael, the first of three festivals (including St. Martin's Day and St. Nicolaus Day) that help the children prepare for Christmas. "In summer, all of the senses are directed outside, but now it is time for everyone to light their inner light", illustrates director Tanja Horn, explaining the highly symbolic power of the four-week "St. Michael's time" that is now starting.
Every year in autumn, when natural life retreats and darkness makes quick strides to return, the group of 3- to 6-year old children and their teachers will spend "Forest Week" in the neighboring woods. This environment enriches the children's fantasy and imagination and creates a rich and inspiring atmosphere. Here, it is easy for the children to enter into their role of brave St. George, who with the help of archangel Michael slays the dragon and saves the princess: a legend that is repeated and echoed in the daily circle and which builds the foundation of the St. Michael's Day feast. The story captures the imagination of even the smallest children, with its lessons of courage, honesty, and inner strength – virtues that are felt and experienced spiritually, without dry and detailed explanations and acted out in free play.
Even after so many years, Tanja Horn still feels the magic in the moment when the children, brandishing homemade wooden swords, crash through the bushes looking for the dragon's lair. Full of determination, they accompany their quest by singing a German song about a heroic knight: "When I'm so big, as big as the world, then I will be a knight and a hero." This is how the educator describes her observations: "This is spirituality, which immediately reveals its positive effects: The children are full engaged in their thinking, feeling and action; they grow beyond themselves and build a strong community that supports each other in joint responsibility." As soon as the dragon has been collectively driven away, the children's courage is celebrated during a knight's feast with homemade swords of cake. The children threshed the wheat used to bake the cake themselves. The cake symbolizes not only the energy of summer, but also connectivity to one's own meaningful action in the course of the seasons. As Tanja Horn – herself a mother of three – emphasizes: These experiences offer the resources that children need to stride purposefully, trustingly, and with faith through life, in close connection to nature and others as well as with the knowledge that they are secure in life.
Spirituality and Health: An Interview with Prof. Dr. David Martin
The special meaning of spiritual life in the first years of a child's life is an area of expertise for Prof. Dr. David Martin, as well. He is the Chair for Medical Theory, Integrative and Anthroposophical Medicine in the Department of Health at the University of Witten-Herdecke. In addition, he works once a week in pediatric and youth medicine in the Filderklinik near Stuttgart in the department of pediatric endocrinology, diabetology, oncology and hematology. In this interview, he talks about spirituality and its healing effects on the healthy development of children.
How important is the life of the spirit for a child's healthy development?
All children share one quality in their inner being: impartiality. This gives them a special ability to see the good and beautiful in things. They can devote themselves to opening towards other people and their environment. This deep sense of joy, gratitude and adoration, which I would call spirituality, is like a treasure that every child possesses, although it might be shaped differently. The value of this essential trustfulness is something that I experience again and again when I am on duty in the hospital, especially when children are facing health challenges. The same is true for the ability to forgive and for the power of regeneration, which helps boys and girls to give every day and all other people a new chance. Even in the case of serious illness, this makes the child's psyche surprisingly resilient. We adults have a lot to learn about this special strength, as it contains the potential to grow beyond one's self and to constantly develop throughout life. If we allow ourselves to be inspired by children in this respect and become better examples, then they in turn also grow and mature by imitating us. These spiritual powers thus empower us, from generation to generation, to become more open, sensitive and kinder people.
How can we encourage this type of resilience?
Repetition, a lived rhythm with beautiful rituals and clear structures, with alternating phases of imagination, physical exercise and listening quiet – this can make a considerable contribution to spiritual as well as physical wellbeing. Especially with the youngest children, this creates a feeling of safety and security. We observe this in the Filderklinik hospital - for example, in caring for premature babies and newborns. In addition to consistent, predictable routines, sensitive caregivers who are attuned to the child and use a gentle voice and facial expressions have a positive influence on development. To this we add age-appropriate, careful external stimulation. As we adults also know, learning requires need both inner and outer relaxation and dependable relationships. Medical research has shown that this is how children's brains develop optimally.
How can spirituality, including in the medical sense, have a healing effect?
In Anthroposophical Medicine, we ensure that a person is penetrated with warmth - physically, spiritually and mentally. This is the reason why anthroposophical doctors often test the temperature of their patients' hands and feet and thus holistically test their wellbeing. Rhythmic massage and salves with special oils, for example, soothe both internally and externally. They can also aid in processing difficult experiences from the past. Another example is eurythmy: this is an art of movement that, when applied therapeutically, has an impact on body, soul, and spirit. Even chronic illnesses can be improved, as recent studies show. Furthermore, the spiritual attitude of medical personnel as well as a focused emotional attentiveness to patients and relatives can be immensely important for the healing process. It has been demonstrated that the number and intensity of infections can be influenced this way.