Thoroughly "bio": The "Coffee and Cream" Chickens from organic Stockbreeding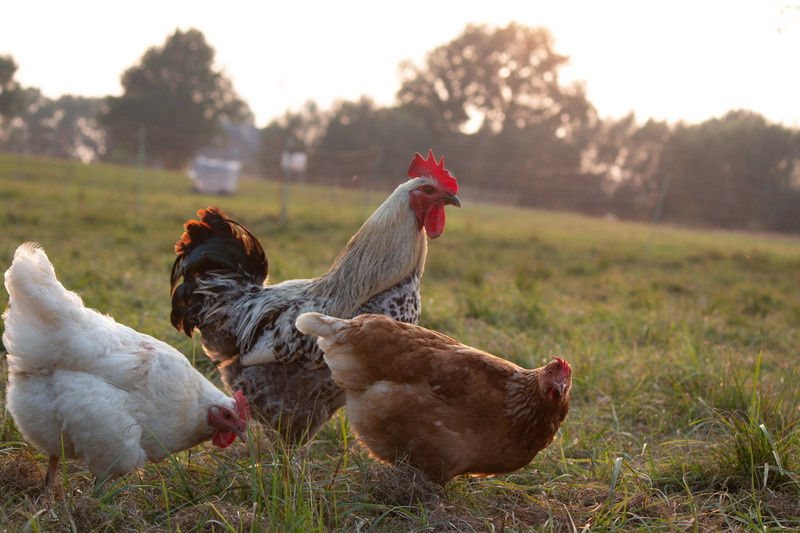 When it comes to ecologically sustainable chicken farming, consumers tend to think of livestock-friendly stalls, adequate chicken runs and biological types of feed, but very few know that most poultry is conventionally reared. It is genetically tuned either to achieve maximum egg-laying performance or the greatest possible meat yield, which poses enormous challenges for organic farmers. This is because these high-performance chickens have not been adapted to the conditions of organic agriculture. What is needed here is poultry that is suitable for use as dual-purpose chickens to produce eggs (hens) and meat (cocks) at the same time – as was still common back in grandma's day. In addition, they should be resilient and should not require special feed from overseas. This is the point where ÖTZ (short form for Ökologische Tierzucht – ecological animal breeding) initiates its breeding programme.
The non-profit company was created by ÖTZ executive director Inga Günther and the Demeter and Bioland associations in 2015. Their common goal was not only the eggs but also that the hens and cocks should be thoroughly environmentally sustainable from the start.
Together with her co-workers, Inga Günther focuses in her breeding programme on the old breeds – New Hampshire, White Rock and Bresse Gauloise. Unlike conventional breeding animal husbandry, they live as a herd, which in turn promotes natural social behaviour. What is special about it? Since artificial insemination is not used, only the animals that get on well with each other will mate. The old breeds give rise to a new variety, currently the "Coffee" and "Cream" lines. They are much more robust, do not have to be raised with drugs and, as dual-purpose chickens, they also meet the ethical requirements of the organic industry.
"Only the work of ÖTZ provides all the ecologically oriented farms with this opportunity", says Christian Wüst, project manager at the Software AG – Foundation (SAGST), "to keep livestock that really suits their type of agriculture". As such, this joint initiative with Demeter and Bioland provides a new direction for livestock, producers and consumers.
If you are interested, you can listen to more information on this topic here or learn more in a video from ÖTZ.