Transforming Approaches to Learning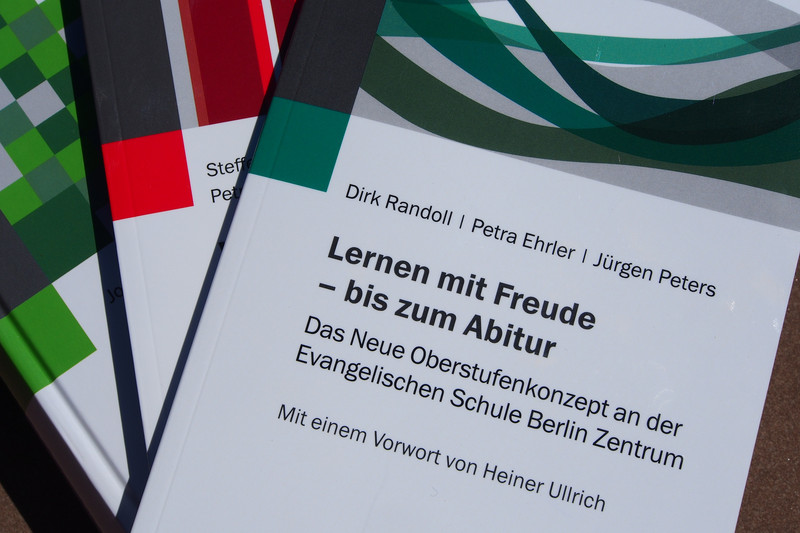 Since 2013, the Evangelische Schule Berlin Zentrum (ESBZ) has been developing a new learning concept for upper school (in German, the "Oberstufe"). The approach encourages students to independently determine their learning needs, thereby taking control of their own living environment and experiencing their actions as meaningful. A focus on interpersonal contact and individual experience contrasts with the increasing anonymization of teaching taking place elsewhere. The Software AG Foundation in Darmstadt is a supporting partner of this journey to new shores. The expectations focused on this new approach have been more than fulfilled, according to empirical evaluations carried out by Alanus University in Alfter, near Bonn. In an interview, the researchers who evaluated the new teaching concept share insights into the project and the results of their study, which has now been published by Beltz Verlag.
Our interview partners: Since 2015, Petra Ehrler, Jürgen Peters and Dirk Randoll have been studying the new upper school learning concept at ESBZ. Petra Ehrler works as a researcher, and Dr. Jürgen Peters as an instructor, at Alanus University. Prof. Dr. Dirk Randoll was in charge of the project. All three work at the Institute for Education and Empirical Educational and Social Research.
Ms. Ehrler, you researched the redesign of the upper school at ESBZ from 2015 to 2019. How did this project come into being?
Ehrler: As students entered the upper school, they discovered that the coursework differed very strongly from the learning format in the middle school. There, the focus was primarily on project work. The young people wanted to continue to take responsibility for their learning. Together with teachers and parents, they considered how they could redesign the upper school accordingly. Within two years, a new concept for upper school was developed – and in the meantime, it has been approved by the senate in Berlin.
The new learning and organizational formats are called Pulsars, Learning Expeditions, and Life and Professional Skills Days. What does Pulsar, for example, refer to?
Randoll: In the Pulsars, which offer space for individualized learning as well as deepening personal interests, the students work continuously on interdisciplinary topics; these are often characterized by high intensity and complexity. This could include, for example, exploring topics such as "cognitive dissonance" or "body language." This takes place on a weekly basis and is cross-discipline and cross-grade-level. The selection of topics is based on the teaching plan as well as the school's internal curriculum. The latter is based on the UN's 17 "Sustainable Development Goals". Divisions into fields of knowledge has been done away with. 84 percent of the students found this type of learning to be enriching for their continuing educational and personal journeys.
What is special about the Learning Expeditions, as a format?
Ehrler: The students have to apply for the learning expeditions. They have to precisely structure a self-selected topic and must ask themselves: How and with whom do I want to learn? With what materials? In what locations? What can I achieve and in what time frame? After a learning week, they then present their topic, experiences, and results to their fellow students.
Students can develop additional skills and abilities in a two-day format. What is the purpose and format of the so-called Life and Professional Skills Days?
Ehrler: Here, too, the students select their topic themselves. For example, they may want to explore tax returns, university scholarship schemes, or study abroad opportunities, or economics or politics for beginners. Also, topics such as handling conflict with teachers, managing depression, or sewing or cooking, may appear on the teens' topic wish lists.
Randoll: Of course, one could obviously ask what these topics are doing showing up in an upper school. But these topics have relevance for daily life and are therefore enormously important for young people's development.
Ehrler: What is decisive is how one understands the idea of school. Is school for acquiring information to get good grades, or is it for developing genuine life skills? Many of the teens at ESBZ no longer want to study just for the sake of school. That is why they value the Life and Professional Skills Days so highly. With this format, they gain the knowledge they need for successful learning and working, even after graduation. 84% of the respondents indicated that they would integrate their topics into their daily lives.
Do the students learn completely independently, or is there also classic teaching like at "normal" schools?
Ehrler: The aim is to transform the classic upper school with a high proportion of Pulsars, Learning Expeditions, and Life and Professional Skills Days. Our surveys indicated that students thought that the new learning formats should be expanded further.
Are the learners intrinsically motivated?
Randoll: There are three essential elements for supporting intrinsic motivation: confirmability, meaning, and self-efficacy, for example through co-determination. These are present in all learning formats at ESBZ, which in turn clearly changes the role of the teacher: s/he becomes a mentor and coach and even, in part, a co-learner. That means: the teacher is no longer the only one who shares knowledge with students. In light of this, a courageous and progressive teaching staff forms the basis for the success of such a project.
How do the academic achievements of ESBZ students compare to other schools with a more traditional upper school?
Ehrler: In 2018, ESBZ students had an average Abitur grade of 1.89; in Berlin, the average was 2.4. So the students perform very well. (Editor's note: the "Abitur" is the German secondary school exam, necessary for graduation and university admission)
What would you like to see next for the project? Is it possible to implement this approach in other schools?
Ehrler: Using our documentation as well as the information ESBZ presents on their website, it would be possible to implement this concept in other schools. However, it requires considerable rethinking.
Randoll: 90 schools have indicated interest, and some of them have already applied the new upper school concept. What is also interesting is that many reform pedagogical elements – such as learning by epochs and independent, practically oriented learning – are present in the new learning format.
Regarding the evaluation: In total, 2,570 students as well as 293 teachers participated in the study. After every learning unit, the participants filled out anonymized online questionnaires. In addition, Petra Ehrler carried out interviews and prepared a closing report. At the close of the project, there was a survey of Abitur students and teachers; results were evaluated by Dr. Jürgen Peters. All study results became a part of the overall evaluation, which has now been published by Beltz Juventa Verlag.
More about the publication at: https://www.alanus.edu/de