Transparent and Integrated: Carpentry Workshop for People with Disabilities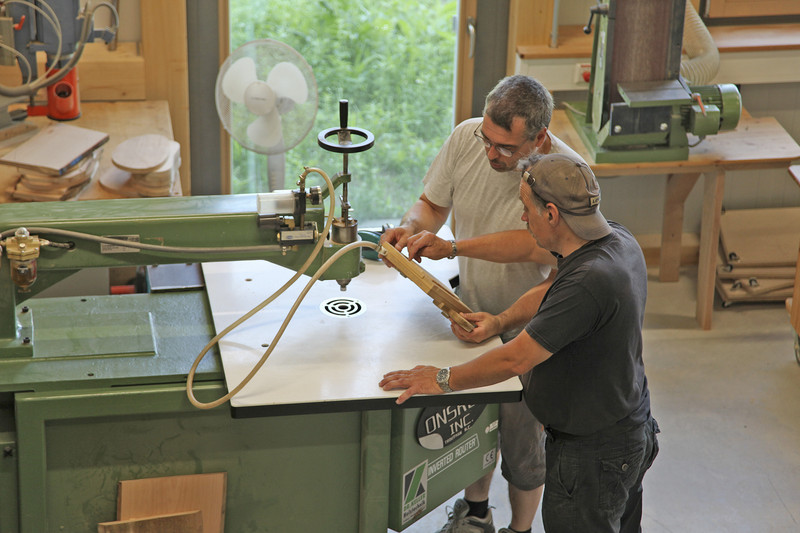 The town of Heiligenberg near Lake Constance is home to around 3,000 people. More than 100 of them are members of the Hermannsberg community, founded in 1976. As one of five Camphill institutions in the area, the community offers employment and residence as well as a meeting place for people with and without disabilities. With the newly build "Transparent Workshop", a carpentry shop in the industrial area of Frickingen, the community is treading a new path and opening up to the surrounding community.
Until recently, the carpentry workshop of the Camphill community Hermannsberg e. V. was located on the premises of a former Franciscan monastery – high up on a secluded mountain spur. It is one of ten different employment opportunities for 120 individuals with disabilities. The fields of activity are diverse, from trades to services to agriculture. The Lichthof, a 60-hectacre property, is used for biodynamic agriculture. In addition, there are 12 home communities and 18 places for individuals with more significant assistance needs.
The reorientation of the social-therapeutic institution on Hermannsberg encompasses a comprehensive concept for the future of the community. This includes also the gradual decentralization of residences and employment opportunities. This is intended to encourage people with disabilities to take a more central place in society, thereby overcoming previous hurdles. In the case of the carpentry workshop, which was in need of renovation, the decision was to close the beautiful, but isolated mountain location. Instead, the community decided to build a new workshop in the nearby industrial location of Frickingen – a location in the middle of society and part of the normal working world. The two-story building was erected using timber-frame construction and put into operation in December 2018. Since then, toys and handicrafts, kitchens, doors and furniture are crafted here from wood, five days a week – and under improved production conditions. In addition, the open and light-flooded space allows for direct interaction with customers.
The intentional integration of the workshop into the public space promotes the independence of people in need of assistance and strengthens their sense of self-efficacy. In light of this, the Software AG Foundation in Darmstadt chose to support the move. The responsible project manager, Konrad Lampart, emphasized that the foundation was particularly impressed that the institution was so serious about implementing inclusive concepts, allowing the village community to assume responsibility as a vehicle for integration assistance. This is demonstrated, for example, by the fact that all 18 employees who work in the "Transparent Workshop" were included in the planning of the new barrier-free work area.