New Reading Matter: SAGST publishes the fifth Issue of its Foundation Magazine on the Topic of "Nutrition".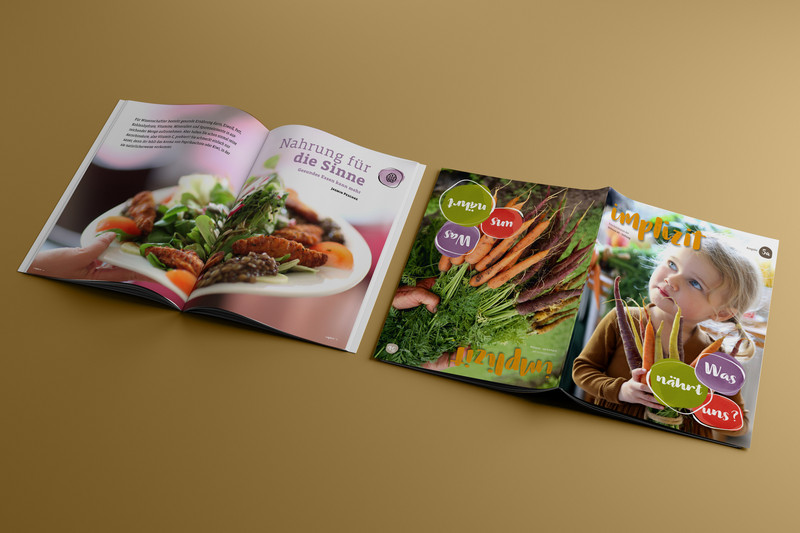 The cold season – when our Foundation magazine is usually published – is the season for root vegetables, which are high in nutrients thanks to all the energy and vigour of summer and autumn that are concentrated in them. The same is true for this issue. Over the past few months, we have been working at our desks, on our phones, in the fields, on farms and in canteens to shine a light on initiatives and projects that are breaking new, newsworthy ground around the topic of "nutrition". In the articles for the printed edition and the accompanying online special, we have explicitly focused not only on healthy food as well as its origins and effects but also implicitly on what strengthens the body, soul and spirit.
This includes learning experiences in connection with natural processes and cycles, such as those made possible at the Dottenfelderhof biodynamic farm or in school kitchens from Stade to Stuttgart, as well as the experience of relationships while cooking and eating together or breastfeeding. In addition to presenting its own funding projects, our current magazine invites you on an online and offline journey from the field to the plate while touching on several of the Foundation's funding areas. For instance, it takes readers to the Witten/Herdecke University (UW/H), where, with the support of SAGST, a real laboratory is being built to test a holistic approach in the fields of climate protection, constructive agriculture, improved nutritional quality and health promotion.
With its meaty reading material, this now fifth issue of SAGST implizit aims to provide you with new insights – for example, that nutrition is very individual and, above all, much more than the intake of proteins, carbohydrates or fats. "Something spiritual is behind all material, and this is true of food as well", the philosopher and founder of anthroposophy Rudolf Steiner once said. That is precisely what we want to convey through the unusual structure of the 50 pages comprising two titles and narrative strands that meet in the middle of the issue. It illustrates the special connection between human beings and plants: their subdivision into head, heart and stomach or root, leaf and flower runs as a graphic and structuring leitmotif through the magazine. We hope you enjoy this feast for the eyes and invite you to discover the magazine (only available in German) with all your senses – recipes and other tasters included.