Educational Program for the Whole Family Finishes Third Year – Polytechnic Foundation of Frankfurt am Main Recognizes the Special Achievements of the Diesterweg Scholarship in Darmstadt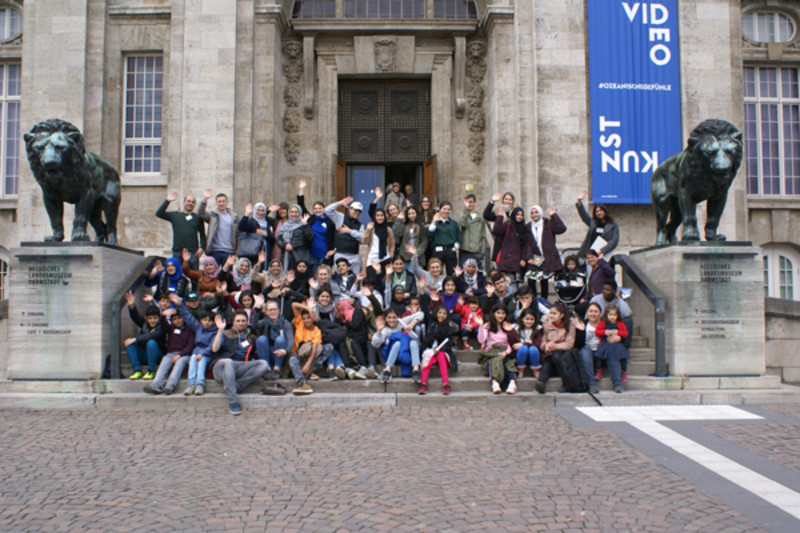 Darmstadt, May 4, 2019 – Increasing educational opportunities, providing assistance to children and parents, and supporting life and learning in the family: these are the goals of the Diesterweg Scholarship in Darmstadt. Named after the reform educator Adolph Diesterweg, the program was developed by the Stiftung Polytechnische Gesellschaft Frankfurt am Main. Since 2008, the program has been leveraging the strength of the family unit to support academic success in numerous locations in Germany.
Six years ago, the Software AG Foundation brought the program to Darmstadt, and since then the local program has been implemented by the Diakonische Werk Darmstadt-Dieburg. On May 4, 2019, the Polytechnic Foundation of Frankfurt am Main recognized the program for its special achievements. The occasion was the festive graduation event for families in the third graduating class of the Diesterweg scholarship.
"The Diesterweg scholarship is the first educational scholarship for families in Germany, and in recent years Darmstadt has proven to be a very engaged, successful location in our network," emphasized Gisela von Auer, Representative for Sustainability and Transfer at the Polytechnic Foundation. As a visible sign of appreciation of the project's commitment, she presented the award to the project coordinators of the Diesterweg scholarship, in the name of Foundation Board member Prof. Dr. med. Roland Kaehlbrandt.
The project is carried out by a team from the organization "Sprachpuzzle" together with students and adult volunteers as well as project partners from Darmstadt and surroundings. Every two years, the team takes a new class of fourth graders with high academic potential but from challenging backgrounds and prepares them for the transition to secondary school. In the first two classes, around 30 students, plus parents and siblings (a total of around 160 people) were supported on their educational journeys with extracurricular opportunities for learning, culture, supervision, and free-time.
"In the third class, around 15 families gamely signed up for the project," said Almut Siodlaczek of the Diesterweg project team, during the graduation festival for the scholarship families. "I would like to thank them for their readiness to regularly attend events and for entrusting their children to us, for their openness, and for all of the enriching encounters over the last two years."
Her gratitude also extended to the friends and supporters of the scholarship, which aside from the Software AG Foundation also include the Hans Erich und Marie Elfriede Dotter-Stiftung, the ENTEGA Stiftung, the Stiftung DiaStart des Stiftungsfonds der Diakonie Hessen and the Rotary Club Darmstadt. As Darmstadt mayor Jochen Partsch made clear in a video message, the financial support of all of these organizations contributed to the success of the family educational scholarship. The Diesterweg scholarship will enter a fourth round in autumn 2019.
Contact:
Software AG Foundation
Peter Augustin
Email: p.augustin(at)sagst.de
Telephone: +49 6151 916 65 146
Mobile: +49 151 18838348