"Gemeinsame Mitte": Hands-on Learning and Neighbourhood Encounters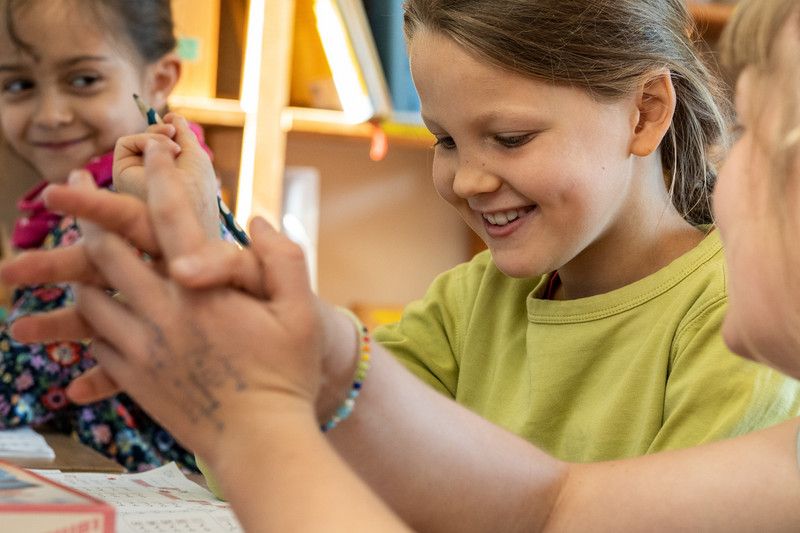 Huckepack e. V. is located in the middle of Striesen, the most populous district in Dresden, the state capital of Saxony. Originating from a parents' initiative, this independent youth welfare organisation has been running the Montessori children's house for about three decades. Here 100 girls and boys, eight of whom have special educational needs, are currently cared for all day in four mixed-age groups. Freie Montessorischule Dresden has been growing steadily since it was founded in 1995 by the same sponsoring association and currently has more than 500 pupils. Today, in addition to a primary school with after-school care, it also comprises a secondary school, a vocational school and a vocational grammar school specialising in economics as well as health and social work. "This gives us the great fortune to support the developmental path of youth from infancy to young adulthood", says Managing Director Harry Vahle about the background of the two reform pedagogical institutions.
Their common goal is to provide all children and young people with support according to their personal developmental stage and to give them the freedom to discover, experiment and try things out. According to the guiding principles of the Italian doctor and philosopher Maria Montessori, this is achieved via a prepared environment that offers a variety of stimuli from which an individual learning path can be chosen, taking into account time and rhythm. Another focus is on project-oriented work in inter-year groups. In addition, inclusion, participation and diversity have been part of the association's self-concept from the very beginning, and it considers cultivating extracurricular partnerships and co-operations at the regional, national and international level of great importance.
The increased demand for school places and the newly added educational qualifications have pushed the main location to its limits, requiring the vocational grammar school to be hived off. A three-storey, accessible extension is currently being built to bring all the school's branches under a single roof and to be able to accommodate more classes. Starting in 2023, this "Gemeinsame Mitte" (German for "Common Centre") will have around 3,500 m² of space for specialised lessons, a library and its own kitchen complete with canteen and cafeteria. The latter will be run by a student company and also be used by residents from the neighbourhood. The new auditorium will have more than 200 seats and offer space for a variety of projects that complement the lessons, such as theatre and musical performances, exhibitions, concerts and festivals. Consciously opening up to the community not only promotes encounters and exchanges between people with and without disabilities but also reinforces the social fabric of the school and neighbourhood in the long term.
Financial support for the project is provided by the Software AG Foundation in Darmstadt, among others. The Foundation's project manager, Jana Weische, emphasises: "The Dresden-based sponsoring association Huckepack e. V. sees school as a place of social learning, a place where society, individuality and family life intertwine. Everyday interactions here exemplify tolerance, integration, and an understanding of democracy and environmental awareness. Moreover, the new opportunities will also be passed on to the outside world in the future."