New Endowed Professor for Arts Therapies at Alanus University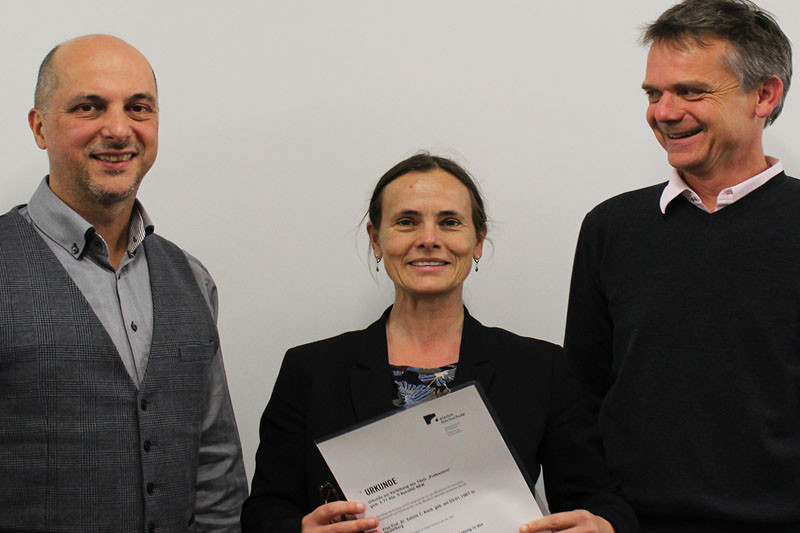 Sabine Koch, psychologist and dance and movement therapist, has been appointed Professor for Empirical Research in Arts Therapies at Alanus University. She was appointed by Dean Marcelo da Veiga. Arts therapies include art, music, theatre, poetry, and dance therapy. As a part of her professorship she will work together with the University of Witten-Herdecke to establish a research institute which will support research projects as well as offer a doctoral program. The endowed chair is financed by the Software AG Foundation for a duration of six years.
"This institute will be an eminently important foundation for the further scientific establishment of arts therapies," said Harald Gruber, Professor for Art Therapy and head of the department for arts therapies at Alanus University.
Sabine Koch is an established researcher who brings many years of experience to Alanus University: she studied art, music, and dance therapy in the US as well as psychology in Heidelberg, where she completed her doctoral degree in 2003 and her habilitation in 2009. Her habilitation focused on embodiment research, that is, the influence of the body and movement on the thoughts and feelings. She spent twelve years researching and teaching at the Psychological Institute of the University of Heidelberg, where she developed various research projects and coordinated a research project on the "body language of dance and movement," funded by the Federal Ministry of Education and Research. Since 2012 Sabine Koch has been Professor for Dance and Movement Therapy at the SRH University in Heidelberg, where she developed the only existing course of study for dance and movement therapy and guided the first two academic classes to graduation.