Filming Day at the Halfeshof Farm – Media Education from a Student's Point of View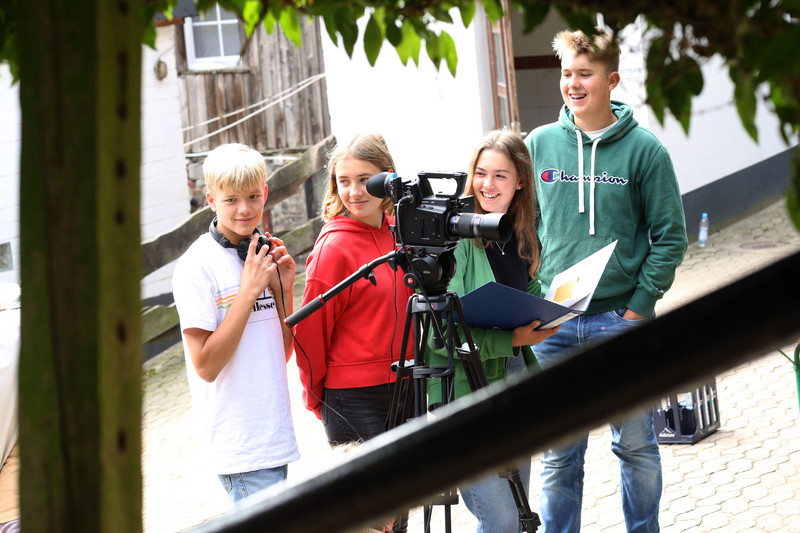 "The children are here!" shouts Corentin. Suddenly there is a flurry of activity: Do we have the right lens? Is the focus right? Is the camera straight? The nursery school group has already passed through the farm gates and is getting closer and closer. Even though it's all only supposed to start in fifteen minutes. "Sound?" - "On!" "Camera?" - "On!" Our project is already beginning at the Halfeshof farm near Düsseldorf.
It's my first day of filming ever and yet, on this Friday in September, and despite all the excitement, it feels like I've done nothing else but produce PR films with a team of people from three different schools that I hardly knew or didn't know at all until then.
In "real life", I am a student at Freie Waldorfschule Landsberg am Lech, where I am in Year 11. Shortly before the last summer holidays, my media studies teacher, Karoline Kopp, asked me if I would like to participate in a media education project. I was told to bring my drone for aerial shots. At first, I didn't really know what to expect. Then, on 16 September 2021, we set off: together with Corentin, a student in Year 10 at my school, and Karoline Kopp, we drove the 700 kilometres to Mettmann. The assignment: Work with students from two other schools to create a short film about the Sarah Wiener Foundation's "Farm Trips". The farm trips are organised excursions for nursery school-aged children with the aim of showing the girls and boys where our food comes from. The little ones prepare a fresh, seasonal meal using products they harvest themselves at the farm under supervision so that they can learn how much work but also how much pleasure goes into preparing a nutritious and healthy meal. The challenge: Film the scenes together. Almost all of us had never made a real film before and had only seen our classmates from Rudolf-Steiner-Schule in Mönchengladbach and Neue Waldorfschule in Dresden once before in a video conference.
We didn't have much opportunity to get to know each other first – our farmer host Roland Rapp is a busy man, so he only had a small time window for us right now. So we had to bring forward his interview on the spur of the moment. We hadn't even been able to familiarise ourselves with the film equipment yet. Instead, we all sprinted to Franz Glaw's car – he's in charge of media education at Freie Hochschule Stuttgart – and got the equipment: professional cameras with interchangeable lenses and Manfrotto tripods, directional microphones on booms with wind protection, radio links, headphones and my drone. While Franz Glaw coordinated the technical set-up and explained everything to us, Karoline Kopp and Michelle Cosier, a teacher at Freie Waldorfschule Dresden, positioned the farmer at the barn door for the interview. Franz Glaw explained to us how we should ask questions and what we should pay attention to so that we get what we need in the end. Only a few minutes later, we started filming our first interview and were quickly caught up in the moment.
While the sun was out, Rasmus – a Year 12 from Mönchengladbach who assisted Franz Glaw – and I took aerial shots of the farm with two drones. Only then did we all gather around a table in the courtyard for a round of introductions and a technical briefing: Rasmus and Franz Glaw, Helene and Jorinde with Michelle Cosier from Dresden, Corentin and I accompanied by Karoline Kopp from Landsberg am Lech, as well as the photographer Charlotte Fischer and Christine Hueß from the Software AG Foundation, which financially supported and organised the film project. Then Franz Glaw gave us a detailed demonstration of the characteristics of the various microphones as well as how to operate the cameras and lenses. We were allowed to try everything out to prepare for the next morning's farm shoot.
To do so, we first created a kind of "script" with a plan for the camera positions and the scenes we wanted to film the following day, including questions for the nursery school teachers and Sara Wolff, the announced Sarah Wiener Foundation representative. The long day ended with all the participants sharing some pizza. Somehow it was as if we had known each other forever.
The actual shoot then started at 8 o'clock the following morning. And again, the equipment had only just been taken out of the car when it was time to start. This practical experience allowed us to learn so many new things: about media technology, scriptwriting and camera work, but also about nutritional issues and the work of the two foundations. It was such an intensive learning experience for us. At school, it would probably have taken months with pen and paper.
We went to Rudolf-Steiner-Schule in Mönchengladbach, where Franz Glaw teaches maths and German, immediately after the shoot to edit the film and do the post-production work. After all, many hours of film material had to be viewed and processed. We also wrote a voice-over and even built an improvised "voice booth" where we could do it directly. We looked for music for the background and created a detailed storyboard to help us coordinate the image and sound sequences, assembling them into a film.
In retrospect, despite all the hard work, this film project was a complete success for us and a special experience that we will remember for a long time. The atmosphere throughout was relaxed, and we enjoyed a lot of laughs. We had the feeling that we were on an equal footing with the teachers and the professionals present. In the context of this experience, we would like to see more media education projects of this kind at (Waldorf) schools in the future. We especially liked working independently for a meaningful project and coming into contact with other schools. It would be nice if this experience could be used in the future for large intramural school events – such as plays or other class projects. Surely it would be easy to find enthusiastic students to set up inter-school project teams or corresponding clubs.
In any event, we are all very proud of what we were able to achieve in such a short amount of time. Especially when you consider that we students and most of the teachers involved had never done a project like this before and that we were not familiar with using cameras, editing video material and the necessary post-processing beforehand, the result is really something we can be proud of.
It was published in the online special (https://www.sagst.de/service-presse/sagst-implizit) of this year's Software AG Foundation magazine, which is dedicated to the topic of nutrition.

The author of this article, which was also published in "Erziehungskunst" (the journal for Waldorf education), is Paul Zeitler, a Year 11 student at Freie Waldorfschule Landsberg am Lech and a participant in a film production about the Sarah Wiener Foundation's farm trips. This film project is part of the continuing education course in media education at the Freie Hochschule Stuttgart Von Tessin Chair and can be viewed here.