"Media Education does not only take place on Screens!"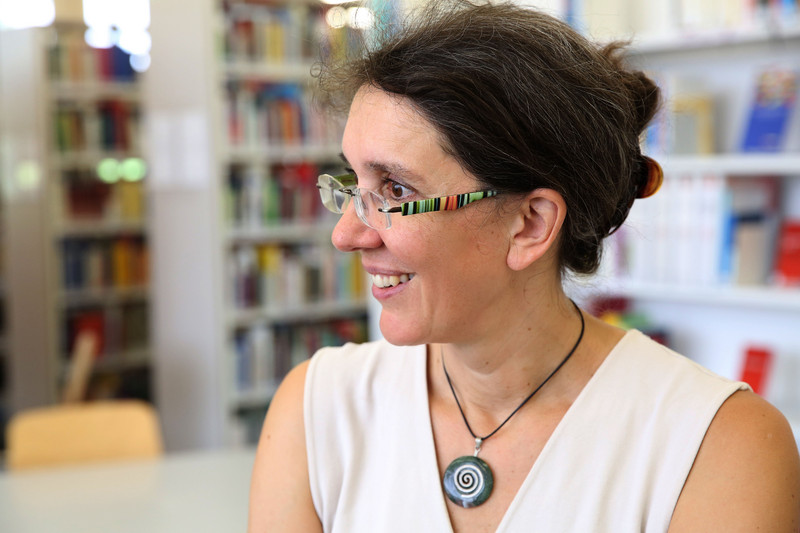 How do children and young people learn to use media confidently? And what can parents, preschools and schools do to support them as they do so? The MünDig study ("Mündigkeit und Digitalisierung" – "Maturity and Digitisation") directed by Paula Bleckmann explores these questions. Dr Bleckman is a professor of media education at the Alanus University of Arts and Social Sciences in Alfter and explains not only the currently published results but also the impact of the pandemic on digital education in the following interview.
Professor Bleckmann, you have been researching the topic of media education for many years and have established the term "media responsibility". What about this topic do you find so fascinating?
Paula Bleckmann: From my perspective, the question of how children learn to handle media responsibly concerns the future of humanity – something I could not have foreseen when I started devoting myself to the subject twenty years ago. I find it fascinating that my research allows me to influence how we as humans will approach technological developments in the future. I am probably also influenced by family traditions. When someone asks, "Why so regressive?" I hear the voice of my grandfather, Carl Friedrich von Weizsäcker. From his point of view as a physicist and philosopher, he thought there was nothing as outdated as naïve technology worship and nothing more progressive than a good technology impact assessment. It sounds cumbersome and abstract at first, but, in fact, it is precisely the question that parents, educators and teachers are dealing with: What are the long-term advantages and disadvantages of certain technological scenarios for our children? How we deal with digital technologies in families and educational institutions should not be determined by who can earn the most money with it and how.
For the MünDig study, professionals, as well as parents and older pupils, were interviewed and asked to answer very complex questions. Why did you choose this complex study design?
Paula Bleckmann: First, we tried simpler questions. However, the respondents expressed to us that they thought it would make sense to take a closer look – for example, which medium – with and/or without a screen – they use at which age for what purpose. Another reason was that we wanted to talk to them as equals and take them seriously as digital education experts. That's why we needed questions that would work for all three groups.
What came out of it?
Paula Bleckmann: What really surprised me was that there is a very high level of agreement about what parents, students and professionals find reasonable. But there are also slight differences. The pupils, for instance, would like to see the use of certain digital media in some areas two or three years earlier. With regard to Waldorf preschools and the primary school years, our study also shows 17 or 18 strengths of Waldorf media education and two to three areas for improvement. During the high school years, there are still about twelve to thirteen strengths as well as seven to eight areas for improvement.
Can you give us an example?
Paula Bleckmann: One strength during the primary school years – that analogue media are in the foreground and digital technologies are not yet used – should, according to the interviewees, be adapted to the pupils' level of development in the higher year groups. The theoretical study background work and the current state of research collected in the context of our study allowed us to underline that such a procedure would, indeed, be reasonable. Media education does not only take place on screens. Especially in preschool and primary school, comprehensive media education without screens is superior to the "digital preschool" concept. In this regard, the parents surveyed appreciate the intensive cooperation with media professionals, which could even be expanded further. However, they would like to have more support with technical issues, such as installing time-limiting and filtering software on their children's devices or how to configure a router. During the high school years, the parents continue to think that it is good to work with media without screens but express the wish that, from the age of twelve or thirteen, more digital screen media should also be used for various purposes in the classroom. This is in line with the assessments of the professionals, who also consider this to be reasonable, but see a need for further training in this area for themselves. By the way, a look at the state of research reveals a certain deviation: even for high school pupils, there is no evidence that critical reflection on media is best practised on screens.
This is probably also a question of considering how to accommodate the wishes and needs of the various participants…
Paula Bleckmann: If it were possible to use digital media precisely where it makes sense – at school as well as at home – that would, of course, be perfect. In fact, during the coronavirus pandemic, screen time was not only twice as high as it should be according to developmental psychologists, neurobiologists, etc., but it exceeded that ideal value by a factor of three to four! As a result, teachers are having to deal with young people who have been in lockdown and have spent twelve hours a day on screens, sometimes for weeks at a time. What the children and young people need now are activities like dance classes or class trips, more outdoor time and excursions. In my opinion, that is the top priority. So we have to create a balance as well as allow for a post-development at the personality enforcement level – in an almost therapeutic sense. I see a great need for action here.
How can professionals and schools benefit from the results of your study?
Paula Bleckmann: Many participants told us that they experienced the survey as a kind of discovery because it allowed them to reflect on what they were already doing in the field of media education. One participant even said that addressing our questions was a kind of "mini refresher course". In this respect, our study can be a valuable resource for the institutions and the starting point for their own media concepts. More than 200 examples of practical activities with and without screens can be found in the report that has now been published – some in the form of bullet points and some in more detail – so it certainly offers some inspiration for everyday day-care and school life.
The pandemic has given digital education an incredible shot in the arm. What do you think of this development?
Paula Bleckmann: The pandemic gave an enormous political boost to the statement, still poorly supported empirically, that everything would be better in education with digitalisation. Before that, digital education had to show that it worked better than traditional methods. During the Covid-19 period, it only had to prove that it was better than doing nothing at all. But that is almost always the case! We need a nuanced view here as well. A technology impact assessment involves taking a close look at what we have experienced in the last two years. What do we want to undo because it was predominantly bad? What do we want to keep because we have had primarily good experiences with it in the long term? We should not let the authority to make these decisions be taken away from us. The critical digitalisation expert Prof. Ralf Lankau has formulated an apt comparison in this context: If I get a crutch or a wheelchair because I broke my leg and can't walk, then I'm grateful to have it. But when my leg has healed, of course I want to learn to walk again. But if my doctor says that walking on crutches is the new walking, I would still insist on rehab – and find a new doctor as soon as possible.
This interview was also published in the current issue of "Erziehungskunst", a magazine for Waldorf education.