Pioneer in plant breeding: Federal Cross of Merit for Dr Hartmut Spieß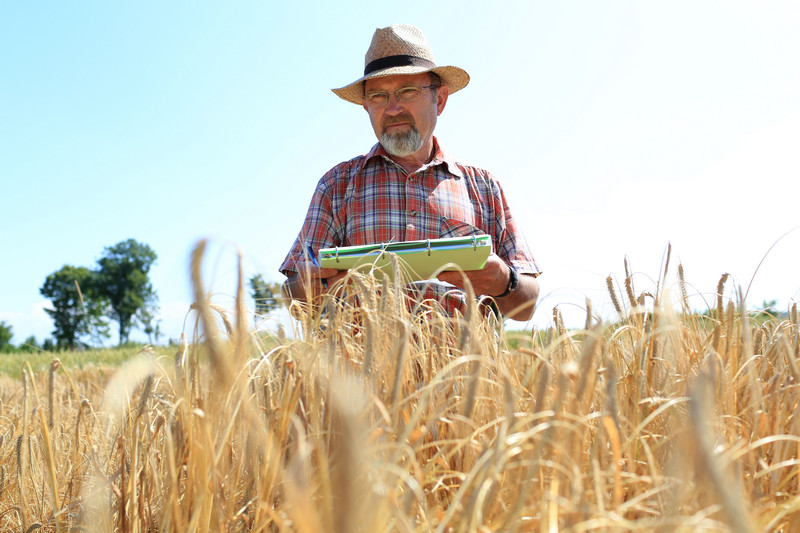 At the end of October 2021, Dr Hartmut Spieß received the Order of Merit from the Federal Republic of Germany. Minister of State Priska Hinz presented the award at a ceremony in Wiesbaden. In her address, she paid tribute to his pioneering work for organic agriculture, especially in the field of seed health and breeding.
From 1977 to 2020, Hartmut Spieß headed the Research & Breeding Department at Dottenfelderhof (FZD) in Bad Vilbel, one of the leading organic cereal and vegetable breeding initiatives in German-speaking Europe. Spieß, who investigated, for example, bio-dynamic methods of fertilisation and weed regulation in long-term trials at the Institute for Biodynamic Research in Darmstadt, founded a field office there. His aim was to work on central biodynamic agriculture research questions under practical conditions – an approach known today as "on-farm research" and is of great relevance. Partly due to these activities and the knowledge they yielded, Dottenfelderhof and the Research & Breeding Department won the Federal Organic Farming Competition in 2002 and 2018.
The SAGST has enjoyed a trusting partnership with the agronomist as well as with the farm in Bad Vilbel for decades. "We are delighted for Hartmut Spieß and wish him our hearty congratulations on this well-deserved recognition of his tireless commitment", says Sebastian Bauer, a project manager at SAGST. "He has a great sense for the essential issues of our time and has always been receptive to current challenges. Combined with his personal commitment, that has allowed him to decisively advance biodynamic agriculture and organic plant breeding, both in practical breeding work and in the scientific field, despite all kinds of resistance."
With his research on plant rhythms, Dr Hartmut Spieß presented the first post-doctoral thesis on a biodynamic topic, paving the way for a broader scientific debate and recognition. He recognised the necessity and importance of professional and independent organic seed breeding at an early stage. That is why he and his colleagues increasingly shifted their research focus towards breeding from the end of the 1990s, for the first time breeding new organic wheat varieties with stone blight and fly blight resistance and, at the same time, excellent baking properties. For some years now, the team has also been developing breeding strategies to adapt agriculture to the effects of climate change, such as by breeding heterogeneous cereal populations that can better withstand weather extremes and deliver more stable yields or quality than conventional varieties. Today, the FZD has ten employees who want to continue to pursue Hartmut Spieß's life's work in the coming years and decades.