"Being outside is the best!" – A Kindergarten Where Waldorf and Forest Education go Hand in Hand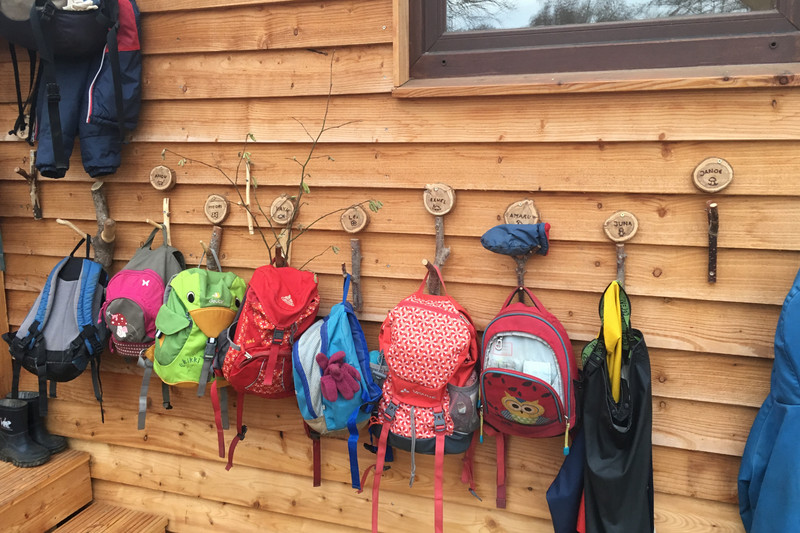 The newly-formed forest group of the Waldorf kindergarten follows the approach of natural education, and has found the perfect location on the grounds of the old mill in Hitzacker. Since August 2018, 15 children have been playing and exploring in forests and streams. A wooden trailer serves as a protective area during storms, and can also be used as a play and recreational area.
In addition, the grounds also offer a covered terrace with tables and chairs, a tool shed, and an open bakery where the children bake bread together once a week. The children, ages 3 to 7, can also try out agricultural activities such as sawing, planting and harvesting on the grounds of the former mill. They share the space with a few chickens, a small herd of highland cattle, a handful of cats and a dog. This contact and relationship with animals is also a part of the Waldorf approach, which is influenced by nature pedagogical activities such as hiking, observation of wild animals in their natural habitats, and playing outside in fresh air - in any weather.
"Like the Waldorf kindergarten in Hitzacker, increasing numbers of Waldorf-educational schools are including elements of forest and nature education," said Elke Rahmann, the responsible Software AG Foundation (SAGST) project manager. "Playful natural discovery and free movement support children's healthy development." In describing the combination of educational elements, she adds, "The youngest not only experience the protective framework of a Waldorf education, but also experience nature as a realm of direct experience."
The kindergarten is managed by a non-profit cooperative that supports the Free School in Hitzacker, on whose grounds the kindergarten children meet every morning. There, they wave goodbye to their parents and join the teachers and other children before walking together to the grounds of the kindergarten. In the future, there are plans to build a wooden play and climbing area on this collective point, which will provide more physical activity for both the waiting kindergarten children as well as for the school's first graders during recesses.