Encounter nature, experience community: Schilasmühle educational and meeting facility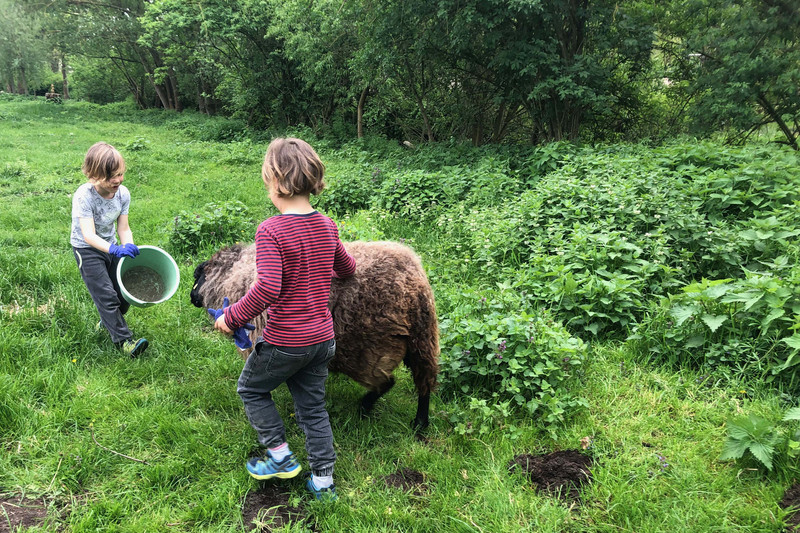 Between the skyline along the River Main and the foothills of the Taunus, the Schilasmühle nature education centre is nestled at the northern tip of Frankfurt in Niederursel. The historic quadrangle farm – surrounded by meadows, orchards, farm fields and paddocks – is at the centre of an area encompassing around 4,500 sqm, where mills and factories used to stand along the Urselbach river. Young families feel especially at home here among the horses, donkeys, chickens, sheep and other animals. The non-profit association Schilasmühle e. V. is an independent child and youth welfare organisation that, along with other initiatives, offers a wide variety of opportunities to experience or jointly create natural life and production cycles.
The open hands-on activities and workshops at the nature farm, for instance, invite children of all ages to discover and actively participate in the field, barn, garden and workshop. In addition to the extracurricular learning centre, Schilasmühle will be home to a nature preschool and an after-school care centre from November 2022. All the facilities are united by their activity-based and Waldorf educational focus that fosters children's physical, mental and spiritual development and creates a variety of sensory experiences. Through their independent activities in rhythm with the seasons, the children acquire practical life skills and the ability to act, as well as a sense of mindfulness when interacting with nature. In their work, the teachers also place great value on preserving cultural customs and old traditions. This includes handicraft activities as well as the joint celebration of Christian holidays throughout the year.
Due to the continuing high demand for alternative, contemporary learning and care concepts, Schilasmühle has recently expanded its existing programme even further. The preschool, which has now grown to two groups with 40 girls and boys, recently moved into the newly renovated main building. That's also the new home of the "Gaukler", an after-school group for six to thirteen-year-olds who will be able to mature into self-confident, creative and tolerant people in a family environment. The independent organisation received financial support from the Software AG Foundation (SAGST) in Darmstadt for the previously necessary conversion and renovation work, as well as further investments necessary for the construction of a hands-on kitchen for the Schilasmühle nature education centre. The designated SAGST project manager, Elke Rahmann, emphasised the unique commitment of Schilasmühle e. V., which emerged from a citizens' initiative in 2016, as well as the independent entrepreneurial company, which are jointly affiliated with the association "der hof" Niederursel e. V., saying: "For many children who come from the multi-storey, densely built-up housing estates in Nordweststadt, this pioneering place is a particularly valuable experiential space. Here, their personal development is reinforced, and they become more resilient for all of life."