At Home and close to Nature right from the Start: the Urwüchsig Forest and Meadow kindergarten e. V.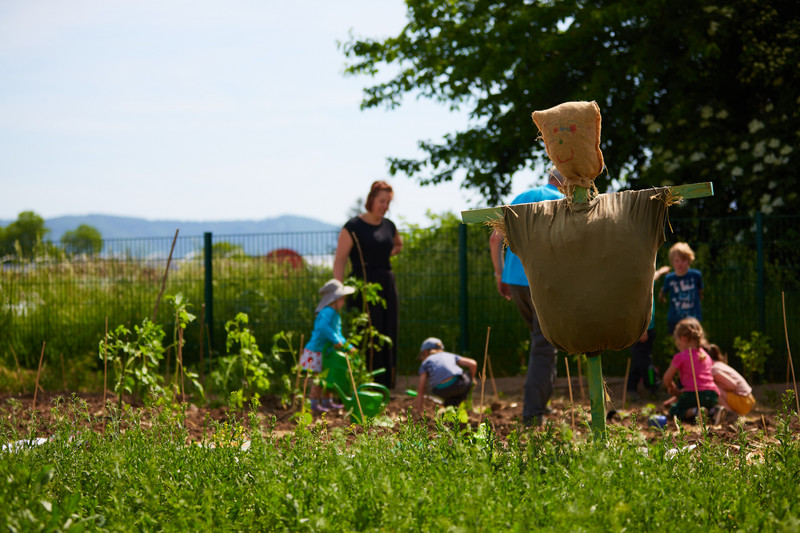 Being close to nature, appreciating and protecting it – this is the pedagogical objective the charitable association urwüchsig e. V. (meaning 'unspoilt') is pursuing with the forest and meadow kindergarten it opened in the Rhine-Neckar region in April 2022. This parents' initiative provides boys and girls from the age of three with a variety of spaces for adventure, in which the focus is on responsible action and a lively community. In this interview, the board members Stefanie Celic, Lisa Sand and Kathrin Gossmann talk about the history of their organisation and how they can succeed in making young people aware of climate and environmental protection at an early stage.
Stefanie, as a mother, you were looking for a place in the forest kindergarten. Today, around two years later, you've found what you're looking for – although in a completely different way than you first thought. What happened in the meantime?
Stefanie Celic: At the time, there wasn't a single available place at the existing facilities in the entire Rhine-Neckar region. In order to be able to provide my daughter and other families with a solution without further ado, I initially set up a meeting place for parents and children in the forest. Within this group, which included my long-standing friend and current fellow board member Lisa Sand, we came up with the idea fairly quickly to simply deal with it ourselves and establish our own forest kindergarten. However, when our planning with the city of Mannheim, which provided us with a suitable venue, was already under way, disillusionment set in. Because the need for childcare is so great that only children who live in the municipal area can also be given a place – for my own daughter that meant she lost out.
What happened after this setback?
Stefanie Celic: I heard about a meadow kindergarten nearby and then tried my luck there. But even there the response I got was, "no chance, we only take local children." As a result, I thought to myself, whatever they can do there, we can do it too! At the township of Edingen-Neckarhausen, where my family lives, they listened positively to our concerns and since then we have adopted a two-pronged approach – along the lines of "all or nothing".
Lisa Sand: Because it was perfectly clear to us that we would not leave anyone from the planning team in the lurch. In hindsight, however, our assumption that it wouldn't make much of a difference whether we opened one or two facilities may have turned out to be somewhat naïve. Despite this, I'm glad that we tackled this project so optimistically, that the great amount of effort we put in and all the curtailed nights' sleep were worth it in every respect. After all, a second outdoor kindergarten has grown out of this apparent disaster with its own educational profile that goes beyond even our original expectations.
What vision do you associate with your two outdoor kindergartens?
Kathrin Gossmann: Both the forest as well as the meadow constitute two huge treasure troves that you can discover with your children all year round. The intuitive playing outdoors and the intensive use of natural materials encourage the natural joy of movement. Many ideas are often generated spontaneously in this environment and can be creatively implemented together with the educators. What is especially nice is that the children can regularly immerse themselves in both worlds due to the close cooperation between the two groups.
Lisa Sand: It's also wonderful to observe how the boys and girls in these surroundings are made aware of such complex issues as protecting nature and the climate in a playful manner. We believe this is particularly important in view of the urgent challenges we face today. Because here they learn to treat the environment, the people in their community, but also the animals and food with respect.
What values would you also like to convey to the children?
Stefanie Celic: At the heart of the educational activity in our groups is a needs-oriented and respectful approach. This also includes taking each individual seriously and not losing sight of anyone. In this sense, the children here are also quite consciously involved in decision-making processes among other things.
Lisa Sand: For us, it is just as essential as interacting on equal terms that the children experience self-efficacy. In order to achieve this, the educators give them positive support in their activities and motivate them to be able to do lots of things – no matter how big or small, loud or quiet they are. With this feeling and our confidence in them, they grow a little bit more every day. This is a true gift for life that we adults can give them to take with them.
The kindergarten routine is not restricted to just the forest and meadow but their education also includes the environment. What additional options does this result in?
Kathrin Gossmann: We wish to offer the children a natural and varied range of experiences, which will stimulate their imagination and whet their thirst for adventure. By cooperating with farms in the neighbourhood, they learn about the regional cultivation of fields, fruit and vegetables as well as the environmental connections at first hand. They can lend a practical hand on site and thus develop a feeling for the cycles in nature. In addition, our children are invited by the farmer next door to help collect eggs, to pet the pigs or look over his shoulder when beekeeping. Along the way, they find out a lot of exciting things about the animals living there and how they are kept on the farm in a species-appropriate environment.
Lisa Sand: When it comes to sowing, cultivating and harvesting on our meadow property, we are also supported by the AckerRacker educational programme. For five years, we have regularly received valuable tips from professionals on how to grow potatoes, pumpkins, etc. in our own kitchen garden. Once the harvest is in, our educators then prepare some delicious meals on the fireplace they built themselves with many small hands providing their assistance. This increases the children's awareness of healthy nutrition in the long run.
In your initiative, close cooperation also exists between the educational professionals and the parents. What difference does this make for the children and their families?
Stefanie Celic: Children at pre-school age take their cue very much from their adult role models. In work assignments that often take place at weekends, they can repeatedly observe what it means to work together for something and pursue the same goals. The families and educational staff also get to know each other better in the process. As such, their shared responsibility creates a growing feeling of solidarity. And the children feel that too, of course. In addition, every family contributes incredible potential and very different types of expertise and everyone perceives this variety – personal, professional or even of a cultural nature – as genuinely enriching.
Kathrin Gossmann: At the same time, we exist in a very open culture of communication in our ordinary lives, which goes way beyond fleeting conversations. As a family, you feel seriously seen and heard. What contributes very significantly to this is how we closely share news of how our children are doing, what issues they are currently dealing with and what their needs are.
Looking ahead: How would you like to see your still fresh initiative develop in the medium to long term?
Lisa Sand: We still have a number of visions in our minds, which we would like to gradually bring to life – these include, for example, the further integration of our kindergartens in the social space. One thing we wish for would therefore be intergenerational cooperation with senior citizens. We also want to include democracy and peace-making in our conceptual work and integrate them in practical terms in our everyday lives with our children.
How would you like to see the educational landscape develop as a whole?
Stefanie Celic: I would be delighted if many other institutions would focus their educational activities on experiencing nature in future. For me, this also means that the government should create more options to facilitate their implementation, both financially as well as in terms of providing advice.
Lisa Sand: I wish the adults – professional educators and parents outside our ranks – would realign their attitudes even more to the needs of children. For me, for example, that means they can get wet and dirty to their heart's content when it comes to understanding the world with all their senses. Because there's hardly anything more beautiful than seeing a child who is covered in mud from head to toe, beaming with joy and packed full of adventures.