Hand in hand: Eat together, grow up healthily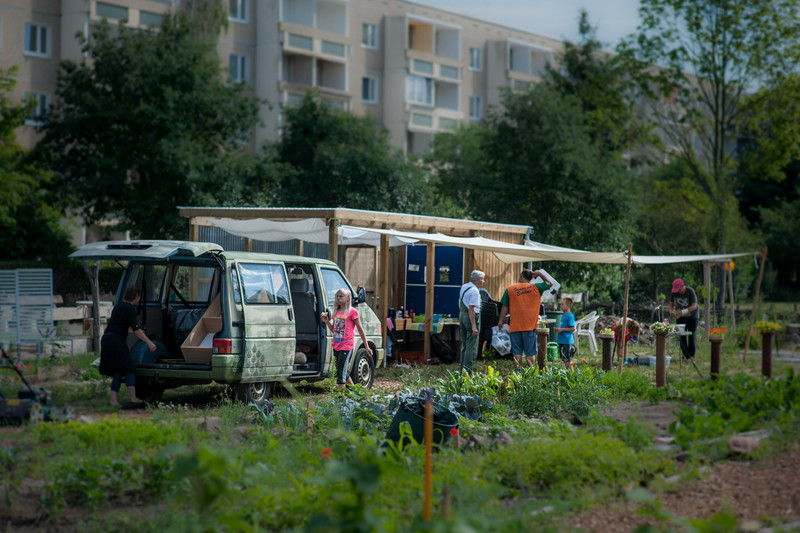 Around 6,000 people live in Heide-Nord, a district of Halle (Saale). This neighbourhood, which is largely cut off from public transport, is afflicted by a widespread lack of work and prospects. In 2016, the Protestant education and project centre Villa Jühling e. V. launched the community garden "Bunte Beete" (colourful beds) here as an oasis for young and old alike within the confines of this desolate prefabricated housing estate.
It's hard to believe, but carrots, lettuce and kohlrabi, as well as many other types of fruit and vegetables, now thrive on an approximately 1,500 m² former brownfield site between the apartment blocks. This diversity is also reflected in the composition of the children's group, which meets three times a week at "Bunte Beete" in an educational play area specially marked out for them. Under guidance, the six- to ten-year-olds enthusiastically take care of and harvest the food grown there, of which they could only name a few before their first visit. While gardening in this community atmosphere, they spend a lot of time outdoors, exercising and acquiring practical life skills. At the same time, they are playfully learning about native species, sustainable cultivation methods and the diverse interrelationships in nature.
Cooking is a second important component of the site's educational concept. When preparing meals, the girls and boys of primary school age try out delicious recipes, calculate, peel or chop the fresh ingredients, and then enjoy them with the group. By doing so, they are developing a relationship to healthy food as well as discovering the importance of enjoying sensory experiences and social rituals. Daniel Brandhoff highlights that this experience, which is valuable in many respects, is completely new for some of them. The outdoor learning teacher leads the project work of the independent organisation in the district and explains how important the conversations at the dining table are: "During meals, the children talk about their day and say what is currently on their minds. They feel that they are being listened to here, with us. Moreover, they learn to treat each other with respect and manage to resolve conflicts constructively and make plans together."
The fact that there are also warm meals beyond ready-made products and baked goods is – quite incidentally – another new insight for many primary school participants in the project, as well as the long-term basis for a more conscious lifestyle. In this context, the educators are particularly pleased when parents occasionally help to prepare vegetable soups and other dishes. According to Daniel Brandhoff, direct exchanges on an equal footing and the inclusion of the entire family are central starting points for later work in the district. What does he consider essential? "In all activities with parents and children, it is always important to focus on individual strengths and resources." The latter, in particular, are capable of much more than you might initially give them credit for. "I'm always impressed by the dedication with which the girls and boys help with the watering, run tirelessly through the garden and discover even the smallest details while being very mindful of the animals they encounter in the garden."