Kindergarten Kitchen: Healthy and fresh, starting with our Little Ones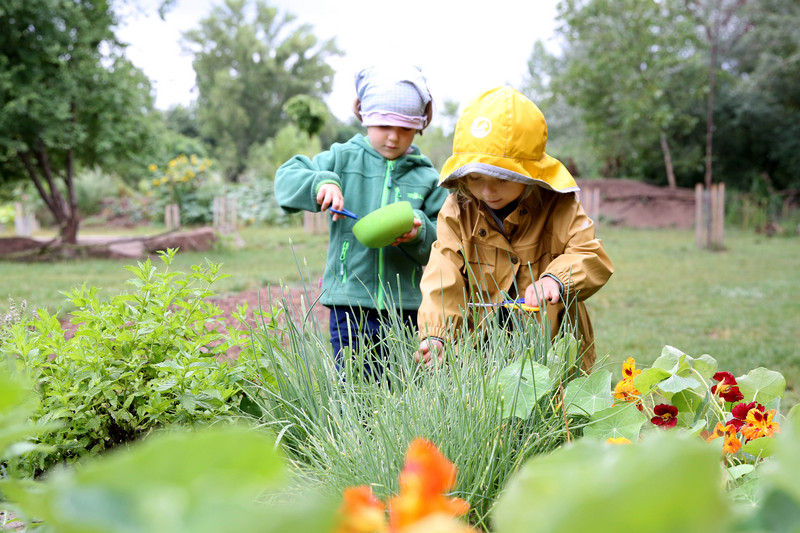 There's no question about it: the earlier children experience how delicious healthy food is and how much fun it is to prepare it together, the better! That makes it all the more commendable that many preschools place value on wholesome food and consciously include children in the cooking process.
At the inclusive Lima day-care centre in Berlin-Neukölln, this is done in a child-friendly "hands-on kitchen" despite rather cramped conditions. Founded in 1989 as a parents' initiative, the facility is located on the ground floor of a former shop. For a long time, there had been a desire to involve the children more actively in preparing meals, which is why a new kitchen area was designed in conjunction with extensive renovation work in recent years. A space-saving sliding door was installed especially to accommodate platforms for the children in the small room so that they can now actively help with cooking as well as with the washing and tidying up afterwards. The daily varied vegetarian breakfast buffet and lunch are prepared fresh and almost exclusively with organic products. The older children are even involved in meal planning: Together with the cook, they think about which ingredients are needed, draw up a shopping list and buy what they need in the morning from a nearby cooperative.
The conditions couldn't be more different in the forest-oriented nature kindergarten in the Bischleben district of Erfurt, which will open in September 2021. At the idyllic location directly on the banks of the Gera River, the parents' initiative uses an extensive garden area for nature-based day care. Two garden sheds provide shelter in bad weather, but the children spend most of their time outdoors. They learn how potatoes, carrots, and other crops grow in their own vegetable garden. The harvest goes either straight into their mouths or the cooking pot. Twice a week, the children cook for themselves – outdoors if possible – otherwise, a caterer provides organic vegetarian wholefoods. Depending on the weather, the food is heated in a large cauldron over the cook fire or on the stove in one of the huts. In any event, the children are involved in cutting the fruit, herbs and vegetables to create delicious dishes or even baking breads or cakes – a sensory experience that incidentally lays the foundation for sensible eating habits and teaches appreciation for our food.