Social Farming: Health Bonus Included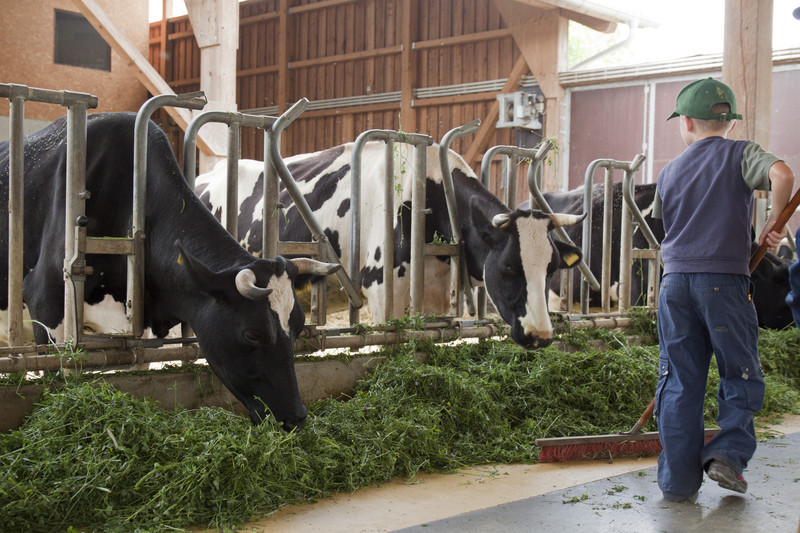 "Social farming" conceives of agricultural businesses not only as places of food production, but also as locations of learning, experience, and encounter, where a very diverse group of individuals can gain valuable impulses for their personal development. Through direct interaction with nature, people quickly come to appreciate that plants and animals are the basis of our existence – and from this experience grows a sense of responsibility as well as respect. For people with disabilities and those from socially disadvantaged backgrounds, working in nature or caring for animals can be particularly stabilizing. Programs based on nature pedagogy also sensitize children and young people for issues of sustainable development, while seasonal gardens can provide city dwellers with farm-fresh, home-grown organic produce.
The health-promoting potential of social farming is being studied by Lene Frohnert in her master's thesis, which is focused on the Hofgut Oberfeld in Darmstadt. She is studying public health in Fulda, and in the course of her thesis, she is interviewing six individuals involved with the Farm in Oberfeld. (The title of her thesis translates to "Health Promotion and Prevention in Social Farming.") In 2006, the formerly state-owned property in the East of Darmstadt was transferred to a non-profit foundation, with the help of the Software AG Foundation. Since then, it has existed as a citizen-held corporation; the foundation is one of the stockholders. The farm engages in biodynamic farming, including vegetables, as well as dairy farming. Thanks to community engagement, this last remaining farm estate near the city could not only be preserved but expanded. Here, agriculture, nature preservation and care, local recreation, work with the disabled, and social therapy are combined in an effective way. Seasonal gardens, a farm store with café, and cultural events as well as farm-based educational programs at the Learning Farm round out the offer for children, teens, and adults.
The individuals interviewed for Ms. Frohnert's thesis describe the farm as a place of social encounter where they can relieve personal stress, and where they can learn about organic, sustainable nutrition and consumption. "On the basis of the interviews I carried out, it was possible to demonstrate in an exemplary way that social (urban) farming, as it is practiced at Hofgut Oberfeld, can contribute to health promotion and prevention, and an integration of these types of projects in city planning seems to provide considerable health value," writes Lene Frohnert in an article in the current "Rundbrief Soziale Landwirtschaft". "Strict organic farming on the one hand supports the maintenance of biodiversity; at the same time, the farm provides the city with a current of fresh air. In its function as a cultural institution, the farm also has [...] relevance for social integration and also acts as a socially meaningful place of encounter."