Caregiving for Difficult Times: Outpatient Child Hospice and Family Support Services in Darmstadt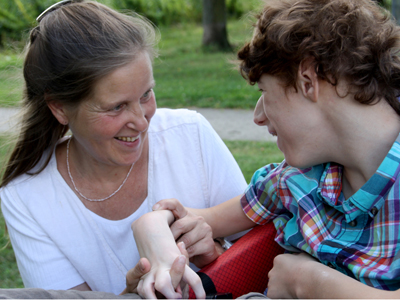 When children become severely or terminally ill or experience the loss of a near relative, the most important thing - next to the best possible medical care - is gentle caregiving. During this time it is of the utmost importance that the child, siblings, and family members all receive the support they need to manage trauma and avoid long-term psychological effects.
In Darmstadt and Südhessen, the Malteser children's hospice and family support services have assumed this important caregiving role. Previously there was only one outpatient hospice service in the area, which the Malteser had been offering since 1997, but it was focused on adults. "In the course of our work we increasingly realised that we needed to care for severely and terminally ill children and their families in a very special way," explained Regina Kober, director of the hospice services.
The plans started with creation of a part-time position. The first task of the new colleague was to work with the leadership of the hospice services to introduce the new care programme to various institutions, such as children's clinics, and to perform some targeted PR in order to obtain volunteers. "At that point we were already receiving requests for caregivers, even though we didn't even have any volunteers yet", said Regina Kober.
Professional Qualification of the Volunteers
The volunteers are a vital part of the hospice service, as they visit the children and families at home. "For this job, we look for people who have their heart in the right place", Kober says regarding the requirements for volunteers. These must be individuals with spare time to offer and must be mentally resilient, open and empathic, and able to adapt to new situations. In addition to these qualities, specific qualification and training are essential. The preparation course consists of one hundred hours of training and is offered once per year. The content of the training, which is free for the volunteers, covers various topics. In addition to practical topics such as hygiene and emergency procedures, the course also covers legal matters such as living wills and supervisory obligations. Other topics, such as communication training in preparation for caring for children who are unable to verbally communicate, are also covered in the training, together with reflections subjects like intimacy and distance as well as the trainees' own experiences with death and dying. As a part of the course the volunteers also complete an internship, for example in an intensive care unit. "It's important to us that our volunteers develop the ability to act with confidence", said Regina Kober. The volunteers are not only qualified, but also supervised: they take part in mandatory supervision and participate in seminars and ongoing education units, and are at all times in communication with one another.
The first course took place at the end of 2011, and hospice work began in 2012. To date, 24 children and their families have received trained caregiving. Since then, the number of requests for care has increased steadily.
"Breaking down the taboo around dying"
One observation from hospice work is that the subject of dying is often a taboo. "I remember a case where one parent became seriously ill and died within a short time - naturally a disturbing and dramatic experience. Within a short time, we had to establish a trusting relationship with the children in order to assist them in this situation and to be able to offer them companionship and care", Kober relates. In other cases they have experienced parents who were unable to talk to their terminally ill child about death. "These are extreme situations and complex challenges that usually overwhelm everyone involved. In these cases our task is to help shoulder the burden, to facilitate discussion and to break down the taboo surrounding this subject". In keeping with this initiative, the Darmstadt hospice service will continue to carry out a recently finished nationwide-wide initiative of the Malthesers in which volunteers visit religious education classes in schools and speak with the students there about death, dying and grief. In the future, the field of grief counselling for children will be further developed. "Hospice work, bereavement support and an open handling of this issue correspond with and complement each other", says Regina Kober.
The Challenge of Funding
The many requests for support have increased not only the need for more volunteers, but also the coordination work on the part of the paid staff members. A new position was created to handle this work, but it was necessary to look for third party funding. Funding hospice services is always a challenge: only publicly insured patients - and not privately insured patients - receive retroactive financial support for the previous year. Even this does not cover all costs. "That's why we depend on donations and grants, for example from foundations. We are very grateful that the Software AG Foundation granted initial funding for a second staff position", says Regina Kobler.
"Family caregiving services increase the quality of life of ill children and youth and especially provide care for siblings in the family, who often end up in the background and therefore suffer in a double sense. We are happy to support this exemplary initiative in its important work," said Silvia Eller, who oversaw the project on behalf of the Software AG Foundation.