Finding their Way "Back on Track"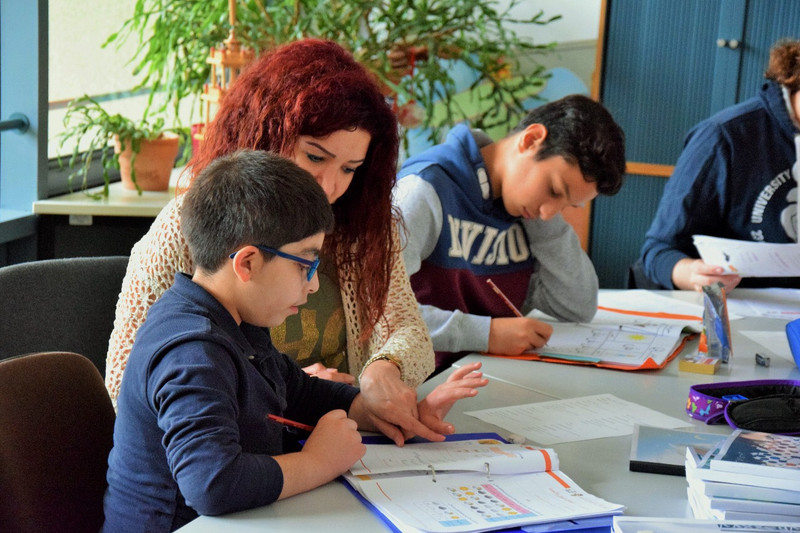 In the past years, millions of children and teens from Syria and Iraq have had their education disrupted by war and displacement. Many have been refugees for years; some, including teenagers, can barely read and write. In so-called "welcome classes" they may learn the German language, but they often fall behind in other relevant school subjects.
That's why the Berlin educational program "Back on Track" focuses on offering supplementary instruction in English, mathematics, and science in the children's native language. Arabic-speaking tutors, themselves refugees, support the children and youth as volunteer mentors. Using a self-organized learning approach, they meet together on a weekly basis, helping the children to develop the competence they need to close the gaps in their education caused by war and migration. The pedagogical concept is inspired by methods developed by the Evangelische Schule Berlin Zentrum (ESBZ) and the Education Innovation Lab in Berlin.
SAGST has been supporting this important initiative for equal-opportunity education for three years. "Back on Track makes use of available resources, offers targeted support, and strengthens both self-confidence as well as self-organization," explains project leader Silvia Eller. "We take a lot of time to understand what a child wants to achieve and what the child needs so that each child can, with its school certificates, achieve what it wants to achieve."
For the children, learning in their native language produces a more relaxed atmosphere. It also helps that the mentors, with their own refugee backgrounds, have a great deal of patience and understanding for the children and teens, who are often traumatized. In addition to the weekly tutoring meetup there are also Parent Cafes where the families can network and get answers to education- and school-related questions.