Focus on People: Interview with Nana Goebel and Manon Haccius from the Alanus Foundation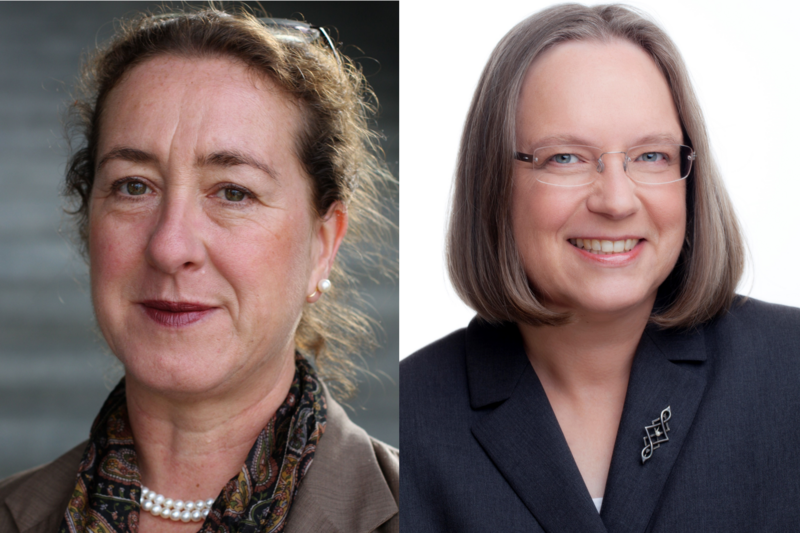 In its project insights, SAGST regularly takes a look behind the scenes of Alanus University of Arts and Social Sciences in the context of its funding partnership that has existed for many years. Today's focus: the Alanus Foundation, established in 2004, which has not only sponsored the educational institution near Bonn for nearly 20 years but also rents out the Alanus Werkhaus as a training and continuing education centre.
As the owner of the properties at Johannishof and Campus II – Villestraße, the Foundation provides, among other things, the necessary premises for university operations, but it also provides the Rectorate with support and advice on strategic and financial issues. Moreover, the Alanus Foundation, which is represented by a total of three board members and is committed to promoting art and culture, science and research, as well as vocational training and education, awards scholarships to students attending the educational institution in Alfter. University communications recently conducted an interview with two of the three honorary board members, excerpts of which can be found here, highlighting challenges Alanus is currently facing as well as the Foundation behind the scenes. Nana Goebel from the "Friends of Waldorf Education" and Dr Manon Haccius from Alnatura, who form the trio on the board with Dr Hermann Falk from GLS Treuhand since December 2021, also talk about their first touch points with Alanus and their view of higher education in general.
Do you still remember your first encounter with Alanus University?
Nana Goebel: I became familiar with the university, which was still an independent liberal arts college at the time, in 1977 while studying in Bonn. I had a lot of contact with students from Alfter at the time because I was already active in the "Friends of Waldorf Education" and was able to get scholarships for some Latin American students who were studying sculpture with Hans Georg Häusler. I remember it well: In the 1970s, Alanus University was the leading place for the development of the art movement that grew out of anthroposophy. Today, the university has become more "normal", so to speak, and the people there no longer have that same pioneering stance, but that is not unusual for a growing institution.
Manon Haccius: I only know the "old" Alanus University from stories. Nevertheless, Alfter has always been a special place for me. I first became familiar with the university shortly before it received state accreditation. Campus II didn't exist then, only the old buildings around Johannishof. It was always a beautiful place, compact, scenic and unconventional; because art was made everywhere, pictures or sculptures were on display. I found the atmosphere very stimulating; therefore, as an Alnatura employee, I always enjoyed coming to Campus I for working group meetings and other events, for instance.
In the meantime, not only is there a second campus, but also numerous new fields of study. What do you think of this development?
Nana Goebel: With the state accreditation, Alanus University has pursued its goal of becoming relevant for many movements and the most diverse range of people. That is a great challenge and a difficult balancing act.
Manon Haccius: And at the same time, the university is trapped in a kind of corset by the state guidelines for educational institutions. In this context, it is far from easy to maintain the original university that was close to the hearts of the pioneers in Alfter. But a stronger establishment and the new financial possibilities that come with it also create opportunities, of course. Not the least of which is with regard to content: merging artistic and academically oriented departments, in particular, is an enrichment and highly attractive for today's students. The relative smallness of the university also makes many more interdisciplinary encounters and exchanges possible than is the case at large institutions.
And looking to the future: What further development tasks await the Alanus Foundation, but also the university as a whole?
Nana Goebel: The Foundation is a kind of service organisation, and it ensures, among other things, that the buildings are maintained, that they are functional and that there is sufficient space.
Manon Haccius: There is still some catching up to do here, for example, with regard to energy-efficient renovations. The university also wants to grow, so the question of space affects the Alanus Foundation in a special way.
Nana Goebel: The quality of the institution, however, comes first and foremost from the people who work or study there. For me, it is therefore crucial that all those involved have a common inner image and share the vision of a university that addresses current challenges and can also provide content-related perspectives.
What does this inner image look like at Alanus University?
Manon Haccius: In Alfter, the focus is deliberately on people. People who are a pleasure to listen to and who shape the university for the future. I wish Alanus even more such beacons that have an impact on society. This is already working very well in the business degree programmes. Alnatura, for example, works with students from Alanus University and has hired several of them, including very committed young people who want to shape their environment. Here it is possible to become effective in a meaningful way.
Nana Goebel: That's also the case at Witten/Herdecke University and Zeppelin University. For me, these are important comparative universities that have a certain uniqueness. But I am under the impression that our society actually needs much more: namely, a more future-oriented way of thinking about and viewing higher education, based exclusively on the interest of the student, not on the need to take this or that exam. In this respect, in principle, it would be necessary to create a completely different type of university, knowing full well that it would not be in line with the framework of the State of North Rhine-Westphalia or any other state in Germany. Such an initiative would be great – contrarian and open to discourse – for much more individualistic studies. I would also like to see that for Alanus University as well.