Green Classroom instead of Concrete Desert: Redesigned Schoolyard at Freie Schule Weserbergland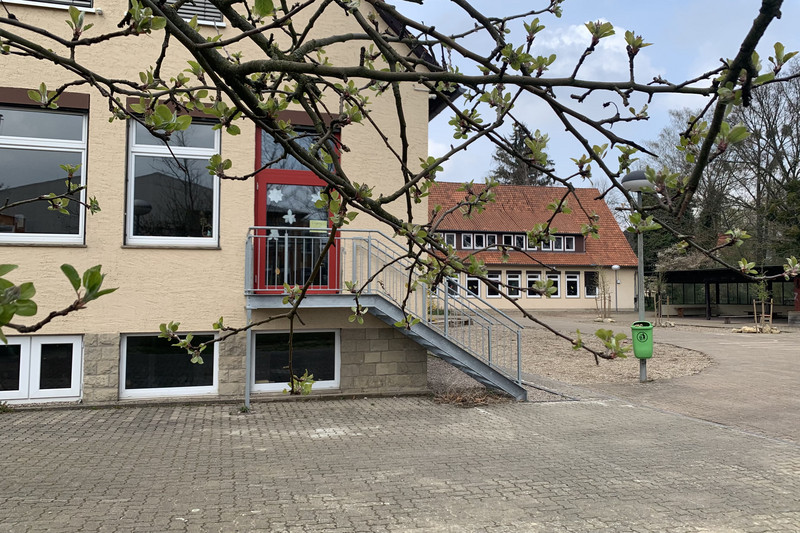 Freie Schule Weserbergland sees itself as a place for children, adolescents, and adults to learn and experience life. After the renovation of their school building, completed in 2018, the school community also breathed new life into the neglected outdoor areas with the financial support of SAGST.
There are currently nearly one hundred children in years 2–9 who attend the facility near Hameln that opened in 2014 and serves as a primary and secondary school up to year 11. The school, founded on the initiative of environmentally conscious parents, is based on the UN "Education for sustainable development" programme. The focus is on self-determined learning and life processes in a trusting and supportive atmosphere. Ecological connections are developed by working in the school's gardens and preparing common meals in the school kitchen. The concept is based on various reform pedagogical approaches integrating elements of nature and wilderness pedagogy as well as non-violent communication according to Rosenberg.
At the beginning of 2018, the sponsoring association was able to take over a municipal school building from the 1970s. With the help of dedicated parents, the building was gutted, renovated and furnished according to sustainable criteria. As a next step, the outdoor areas were also urgently in need of being redesigned. Many parents have actively tackled the task of turning the schoolyard into a green classroom – with complete success. An adventure playground with a wide range of climbing structures has taken the place of the concrete surfaces. The school garden was extended with areas for growing fruits and vegetables, as well as a workshop pavilion for working with wood, clay and a forge. Moreover, there are now several building plots where the children and adolescents can become more familiar with handling natural materials.
Financial support for the comprehensive project came, among others, from Software AG – Stiftung, which has been promoting the independent education system for many years. "Independent schools are an important innovation factor for the educational landscape", explains project leader Prof. Dr. Dirk Randoll. The educational scientist is one of the authors of a 2016 study that, for the first time, examined learning experiences and the school quality of independent schools from the students' perspective. According to this study, they rate their time spent at school very positively and feel actively involved in the lessons. "This feeling of being able to help shape the school's processes and not experiencing learning as something directed by someone else is a major reason why there is such great satisfaction and high identification with one's own school", explains Randoll.