"The social Power of Art is still present."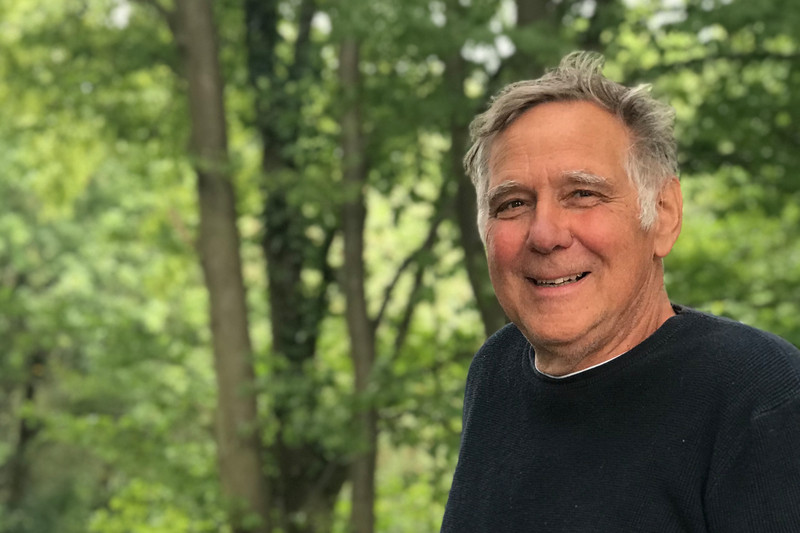 As a long-time lecturer, vice rector and managing director, Prof. Andreas Kienlin has not only shaped the sculpture degree programme but also fundamentally moulded the development of the Alanus University of Arts and Social Sciences in Alfter near Bonn. When he retired in autumn 2021, we spoke with him about inner and outer opposition, the particular challenges of stone carving and the social power of art.
Professor Kienlin, you were involved in establishing Alanus University as a student back in the 1970s. Today's students have a completely different point of departure. How do you perceive this?
Andreas Kienlin: The desire to shape the world more humanely through art moved us then as it does now. I was driven by the desire to study sculpture and art. In order to do that, however, we had to start by creating the studios in the first place! But it wasn't that bad, it was quite a positive experience for me. Young people who apply today have to deal with other opposition that is perhaps more internal. On a positive note, today's students are extremely networked and constantly exchanging ideas. Communication and perception of the world play a much more important role than in the past. Therein, however, lies the danger of being distracted from one's own work. Therefore, it is all the more crucial that students step outside of their social environment for a change so that they can focus more on themselves or their art. That is why, in addition to the stone symposium, which I have held in my adopted country of Norway since the 1990s, the department has many other extended trips, for example, as part of my colleague Jochen Breme's land art projects.
The annual stone symposium has become a central component of the sculpture degree programme. What is the significance of stone as an artistic material?
Andreas Kienlin: Rudolf Steiner, whose artistic catalyst was the basis on which Alanus University was founded in the 1970s, tasks us with elevating material into the spiritual world in our artistic work, so to speak. We work with various materials – e.g. wood, stone or metal – so that the students can experience such a transformation in a very concrete way. Stone offers us a great deal of resistance and challenges our will to a high degree. You can only work with it if you have a lot of patience and inner strength. You can practise slowness and continuity with it – skills that are urgently needed in this day and age. It's about showing the students that they have these skills. And they need to develop confidence in themselves. Confidence that what they are doing is right – for them, but also for the world. After all, we are not concerned with art as an end in itself, but with connecting it to society.
The stone symposia allow the students to engage intensively with this material for several weeks – what do they experience?
Andreas Kienlin: The students live together as a community for eight to ten weeks from morning to night. They are not only artistically active, but they also cook, eat and socialise together. This has proven to be very beneficial for the degree programme. I observe it again and again: after about a fortnight, their cheeks are glowing, and they are happy and satisfied with themselves as well as their choice to study sculpture. I am happy for all those who can have this experience. Because of course it is important to develop skills – but what is most important is that the students believe in themselves. That they find something within themselves on which they can draw and from which they can develop confidence. That is why it is nice that the stone symposia will probably continue. The plans for the coming year are already underway.
A lot has changed at Alanus University since the early years. Is there nevertheless something like an essence that you still see taking effect today?
Andreas Kienlin: Definitely. That essence has to do with the approach that art has an impact on society – and that mindset lives on today. Alanus University is still called an art academy and is recognised as such by the public authorities. The fact that art has an effect – even in schools, in therapy, through works in public spaces – should not be underestimated. The social power of art, which we placed at the heart of our work in the early days, is still present at the university. I am glad and proud that we have managed to maintain and build on this catalyst over the years.
About the person:
Andreas Kienlin, born in 1955, began studying sculpture at Alanus University in Alfter in 1977 under Heinz Häußler and Raimar von Bonin. After attending Wilfried Ogilvie's master class and receiving his fine arts degree, he started working as a lecturer at Alanus University in the Sculpture and Architecture Departments in 1981. In 1985, he became head of the Sculpture Department, which he expanded. He was also dean of the Fine Arts Department for many years. While continuing to teach, he was vice rector and managing director in Alfter from 1999 to 2014. In 2002, Andreas Kienlin was appointed professor in the Sculpture Department by the state of North Rhine-Westphalia.