Living Learning at Lake Constance: The Unterseeschule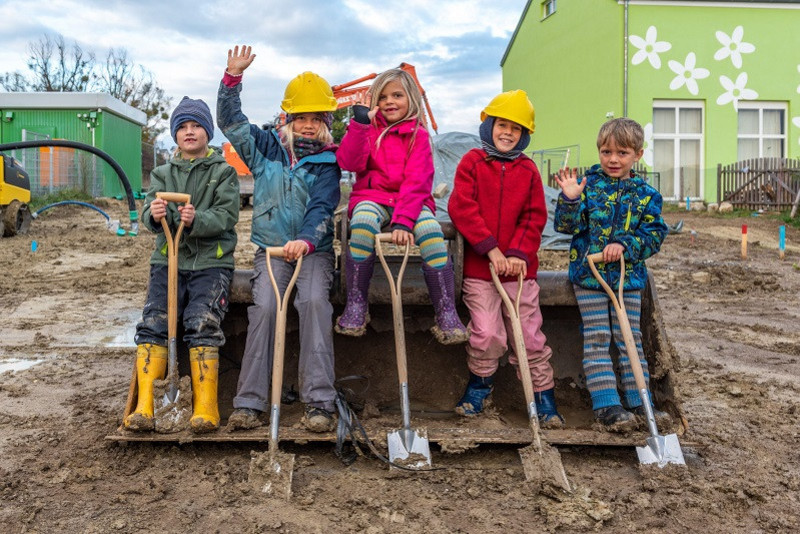 The pedagogical concept of the Unterseeschule focuses on individual development needs and prioritizes pressure-free mixed-age learning. Originally founded in Konstanz by the non-profit association "Lebendiges Lernen" (living learning), the institution has been located in Radolfzell for several years, where a new building for the school and preschool was constructed on a large, natural site. After several extensions – some completed and others still in the planning stage – there will be space for around 120 children and youth.
In the garden comprising raised beds, biotopes and mud corners, a willow hut and chickens, they will be able to experience their environment directly and follow up on many questions raised in the classroom in a very practical way. Based on Jean Piaget's stage model, the students progress through four developmental stages in year-overlapping groups up to Year 11. The preschool is guided by Montessori and Pikler pedagogy, enabling the little ones to shape their play and learning processes at their own pace. The transition to primary school is also designed to be extremely flexible: Older preschool children can attend Year 1 on a trial basis and then switch to it full-time depending on their primary school readiness on one of two dates in the year.
When the high school students start developing career aspirations in Years 9-11, they intern with companies and businesses in the area for a few days or even several weeks. In the absence of an internal school-leaving certificate, there is individual preparation, e.g. for transferring to a secondary school (eleven-plus) or taking up an apprenticeship. SAGST project manager Elke Rahmann is convinced that "with its unique approach, the Unterseeschule ideally supports individual learning paths. Especially in view of the debate on better inclusion in education, I consider their secondary technical school model to be forward-looking."