Paths to the Future: "The Art of Healing" Documentary on Anthroposophic Medicine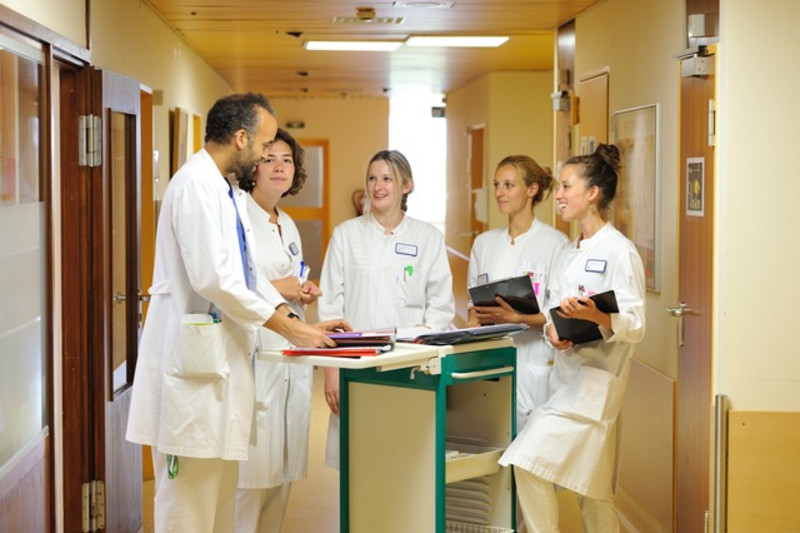 What does anthroposophic medicine entail? Clear answers to this question are provided in the recently released documentary entitled "Die Kunst des Heilens" (The Art of Healing), which presents various fields of work in this integrative extension of conventional medicine. Another topic is fuelling the talent pipeline – such as at Witten/Herdecke University, where students can learn more about anthroposophic perspectives in the course of their regular medical studies.
This documentary on anthroposophic medicine, produced on behalf of the Medical Section at the Goetheanum, provides insights into therapeutic practice in several sequences – both in everyday hospital life and in outpatient treatments. In interviews, anthroposophic physicians report what guides them in their work. Renowned minds from the worlds of science, culture and politics also speak out. Other topics include the production of anthroposophic remedies, art and movement therapies, care, as well as training and research.
"The future begins with training." This opening statement of the seventh part of "Paths to the Future" (17:17 min.) clearly describes why the academic pipeline is so decisive. Only if enough young people learn the basics of anthroposophic medicine and are trained in it can the patients' strong demand for this integrative medical care be adequately served. This is where the Integrated Curriculum for Anthroposophic Medicine (ICURAM) of Witten/Herdecke University comes in. Here, students acquire a corresponding additional qualification alongside their regular medical studies and at no additional cost – the only offer of its kind in Germany or the world.
In order to strengthen anthroposophic medicine and further anchor it in society, SAGST has been systematically involved in training and introducing academic standards for many years. "The shortage of young talent in anthroposophic medicine remains very high", explains SAGST project manager Silva Eller. "Therefore, it seems obvious to awaken the interest of aspiring physicians in the potential of integrative medicine while they are still at school. And ICURAM does an excellent job of this. Not only is it up to date academically, but it also has a strong practical focus. Moreover, it offers plenty of space for co-creation and personal development."
Prof. Dr. med. Friedrich Edelhäuser is one of the three heads of ICURAM. In the film, he states that conventional medicine is in dangerof losing sight of the human being, the counterpart. It is a matter of discovering the "spiritual interior of nature and man" and harnessing it for medicine. "We want to take this into account and implement it in the accompanying study", he explains. The aspiring young doctor Anna Chiara Comezzi describes her experience in her affiliated internship at the community hospital in Herdecke. There, under medical supervision, the students directly experience the added value of the patient-centred perspective within anthroposophic medicine. "For the first time, I really felt taken into consideration" – such feedback from the patients shows how positively they view holistically oriented medical care.