Safe and sound in the Forest: A Place to play and develop the Senses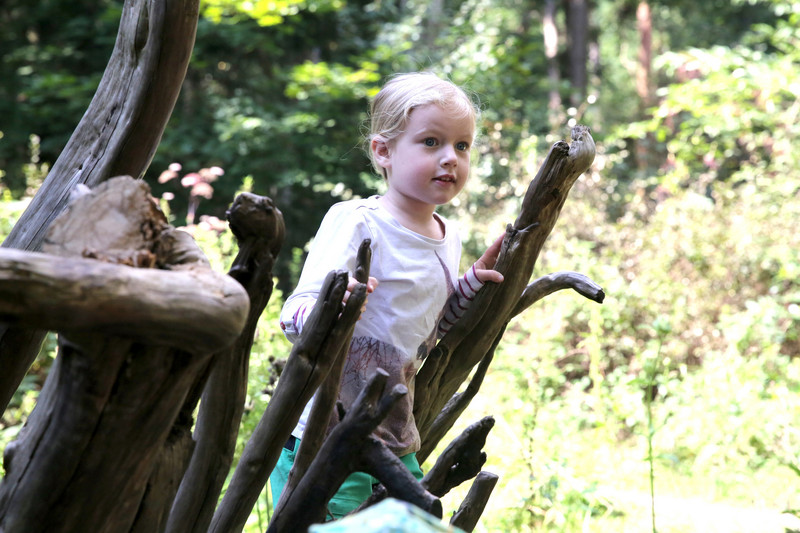 Training the senses, developing one's own personality and growing playfully at an individual pace: Preschool children can do all that best in a low-stimulus environment – without external distractions or prefabricated offerings. That is why the association Waldkinder Pirna has been deliberately using nature as an educational space since it was founded in 2015. For the 20 girls and boys in the preschool group, nature provides a place for play and development that is as stimulating to the imagination as it is balancing. Here, the experiences they have allow them to concentrate on one activity and reinforce their self-confidence in a lasting manner. The local forest in the Graupa district offers the three- to six-year-olds everything they need to develop their creativity, motor skills and ability to act. Educator Kerstin Fritzsche is also convinced of this: "We want our children to have a place where they can not only let off steam in the fresh air but also become active of their own initiative, work together on something and experience all facets of social interaction within the group", summarises the biologist and beekeeper. In the process, the girls and boys learn almost incidentally how important nature is as a habitat for humans and animals and how it is possible to preserve its beauty by acting responsibly.
The five-member educational team places great value on, among other things, consistent daily, weekly and annual cycles. According to Fritzsche, this gives the children a sense of security, especially during the pandemic. In addition to the morning circle, breakfast and subsequent free playtime, the fixed components of the preschool routine also include regularly recurring activities such as the weekly visit to an animal educator or a so-called workday with artistic moments. What do all the activities have in common? They all take place outdoors. The only exception: the group sometimes shelters in a former day-care centre on Lohengrinstrasse during thunderstorms or storms. If the weather changes suddenly, the children find temporary refuge in a comfortably furnished construction trailer in the larch forest.