Sonnhalde Gempen: Start of Construction for new Meeting Centre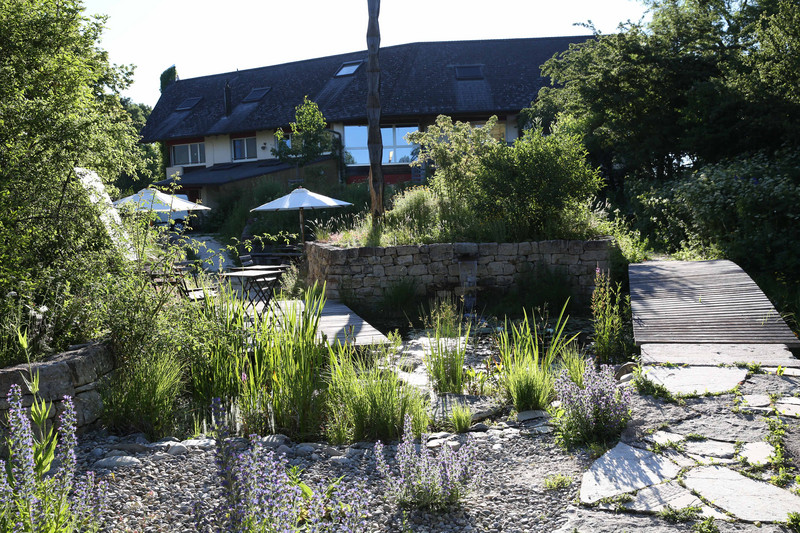 For more than 50 years, Sonnhalde Gempen has been a point of contact for people with autism spectrum disorders (ASD) and other mental and intellectual development impairments. The anthroposophic institution, located about 20 kilometres northeast of Basel, was an initiative of the Swiss child psychiatrist Jakob Lutz and affected parents. It comprises a special needs school, a vocational training centre, day structures and workshops, not to mention residential facilities for children, youth and adults. Now a new meeting centre is being built where all the groups from the living and working community, as well as their guests, can meet regardless of the weather.
The project, which should be completed by the second half of 2025, is a continuation of Sonnhalde's founding inclusive approach. The preschool for children with ASD, which opened in 1971, met with such great interest in the community of Gempen that it generated the desire for joint care, and soon children without impairments were also accepted – making it the first inclusive preschool in Switzerland. During an on-site visit, SAGST project manager Markus Kleikemper was able to experience the loving interaction on equal footing that is nurtured in Gempen: "I am deeply impressed by how participation and sharing are practised here – and have been for many years, long before the UN Convention on the Rights of Persons with Disabilities came into force."
During the subsequent expansion, the community pursued its course of openness, for example, by founding several assisted living groups in the surrounding area. The Sonnhalde Demeter bakery supplies bread and baked goods to various shops in the region, and fruit and vegetables from the gardens, as well as other products from the workshops, are for sale in their own farm shop. The new meeting centre now presents additional possibilities: a canteen area and other rooms offer not only enough space for people with assistance needs and employees to eat lunch together, but also plenty of opportunities for personal meetings and events.
The new building comprises a large central room and five outer rooms arranged in the shape of a star, a covered outdoor area as well as space for serving meals, washing up and sanitary facilities. The result is flexible options for use outside of lunchtime, such as for meetings and workshops or cultural events in the evening, which are also aimed at external guests. "For SAGST, focusing on the individual and social spaces are important criteria for a funding commitment," emphasises Markus Kleikemper, further asking: "What are the responsible stakeholders doing so that they can respond to the individual needs of all those involved? How open is the community to the public? The planned meeting centre addresses such aspects and creates a new setting where they can be implemented particularly well."