Bubbling, swirling, splashing: The new Waterworks in the Schloss Freudenberg Field of Experiences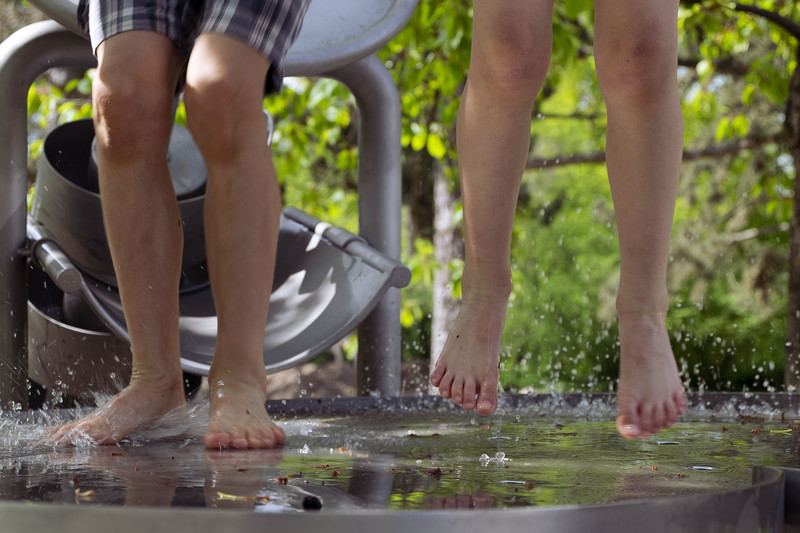 Schloss Freudenberg in western Wiesbaden is an exceptional place. For nearly 30 years, it has attracted young and old alike with numerous artistic installations and stations that can be explored in and around the castle in the "Field of Experiences of the Senses". Inside the building, visitors can feel or smell mysterious things, admire optical illusions, listen to the sound of a gong or even feel their way down a pitch-black corridor. Outside is a barefoot path for explorers of all ages, a huge partner swing, as well as many other possibilities for climbing, balancing and exploring. Another attraction in the castle's extensive park is scheduled to open at the end of May: waterworks with a total of eleven stations. The first ideas for such an area already existed in the early years of Freudenberg – now the project has come to life. The website states: "We want our visitors to experience water without constraints". The focus is on the process: observe – listen – build – channel.
After a rotary pump was installed on the grounds in autumn 2020, a second construction phase has now seen the installation of an additional water circuit supplied for the most part from the newly installed cistern. The water makes its way over a slope, flowing and swirling through several flowform basins. Visitors can use an impressive Archimedes' screw to pump it upwards and perceive how it is lifted. Meanwhile, existing elements have been integrated into a flow table under a cherry tree, such as the large "water lily" metal shells, in which the water can be set to vibrating. "The senses allow us to open up the world, relate to it", says project manager Elke Rahmann. "The Field of Experiences promotes this connection because its stations invite visitors to train their senses: to taste, to feel, to open their eyes and ears. The waterworks allows children and adults to immerse themselves in the element of water in a playful and very aesthetic way."
The open opening of the waterworks will take place on 28 May 2021, starting from 4 pm. Theme days with stimuli and special activities all about water are also planned for the weekend of 3–6 June.