"Foreign Minister" Walter Hiller Retires – SAGST Grateful for 15 Years of Service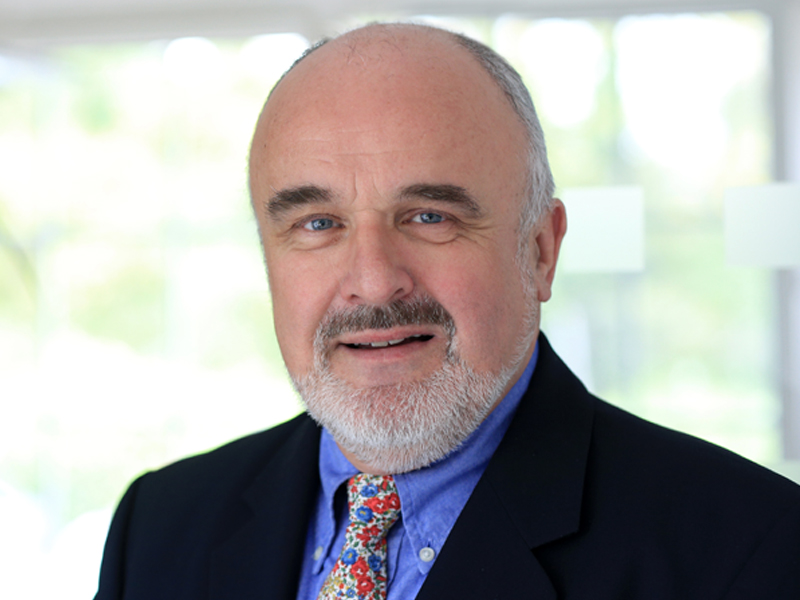 During more than a decade as Director of Communications and International Relations, Walter Hiller was responsible for presenting the work of the Software AG Foundation (SAGST) to the world. During this time, Hiller's tireless dedication, significant expertise, and heart-felt commitment made a significant impact on the press and PR work of the foundation. As a passionate networker, he was also a member of numerous bodies. The pedagogue and one-time national director of the Free Waldorf schools saw himself as an "external agitator", above all on matters of educational policy. As a moderator and bridge-builder between society, politics, and the economy, he was intensively involved in educational policy processes in the Darmstadt-Dieburg region and beyond.
At the close of the year he will begin his well-earned retirement after many years of service for SAGST, starting in 2002 as a member of the Board of Trustees. In an interview, our "foreign minister" reflects on an exciting professional career and a "very fulfilling time at SAGST".
The foundation expresses its heart-felt thanks for his exceptional commitment and for 15 years of close cooperation!
How did you come to work at the foundation in 2002?
My previous professional experience as a Waldorf teacher and director of the national organization for Waldorf schools in Germany, as well as personal contacts established front this time, led to my appointment to the Board of Trustees at the end of the millennium. One of the funding priorities at SAGST, independent alternative schools, was a promising logical extension of my existing expertise, especially my international experience as president of the European network of Waldorf schools. My professional experience in PR work surely played a role in my transition in 2005 from Board of Trustees member to a foundation employee, as well. At the time, it was intended that this funding area should receive greater attention at the foundation.
You worked for SAGST for a total of 15 years. What has changed during your time at the foundation?
When I am asked about how SAGST has developed during the more than a decade that I spent here, one things is particularly clear to me: namely, the very gratifying collegiality that has developed and that characterizes how we accomplish the work of the foundation. In constant communication with applicants, their special concerns, their struggle to realize fruitful and often new approaches – the foundation was and is constantly engaged in a mutual learning process. For the employees involved in project management, the challenge is to encourage, in the diverse projects as well as in contact with applicants, those aspects which SAGST founder Peter Schnell called "healing impulses" and defined as the primary leitmotiv of our work.
What do you remember especially fondly?
That is a really difficult question, because in general I can look back at a very fulfilling time at SAGST. For me, the most special moments were especially those in the context of collegial relationships. For example, times when we held a very passionate and controversial discussion, yet were still able to come to a consensus and decision together, and were thus able to achieve fruitful results. These discussion and discovery processes are related to the particular culture of the foundation: although SAGST naturally has a constitution as well as a managing board that leads and makes decisions, our relationships with the many "lives" that we encounter in the form of applicants and inquiries are most deeply realized in communication with the people involved. I always felt a special satisfaction when, as a result of conversations with applicants, colleagues, and members of the board, we were able to implement a project that satisfied both high aspirations and "earthly conditions". Another wonderful, unforgettable moment was the successful SAGST 20-year celebration and the accompanying "Anstiften" donation drive.
What was the greatest challenge you experienced?
The continuous process of harmonizing high expectations and aspirations with realities and necessities is a constant challenge in the "foundation business". In my work, there was always the additional question of finding the appropriate ways and means of making people aware of the impact of SAGST. We wanted (and want) not only to comply with the general requirement of transparency, but also to communicate exemplary projects or initially unfamiliar perspectives in a way that is not overly pedantic, but that encourages curiosity and, hopefully, understanding.
What will you miss the most at the foundation?
This question finds me right at the moment when I am entering retirement and leaving professional life. For me, a long period is coming to a close in which I had the good fortune to experience challenges that were personal challenges, as well. I look back at this very gratefully and am curious to see what changes and new tasks arise.
What advice would you give to the next generations at SAGST?
For the special work of a charitable foundation like SAGST, a crucial quality is openness for all that we will encounter in the future. It is worth making every effort to expand our general understanding of life processes in social life and in the natural world.