More Room for Elderly Support: New Addition to the Christliche Sozialstation Bad Dürkheim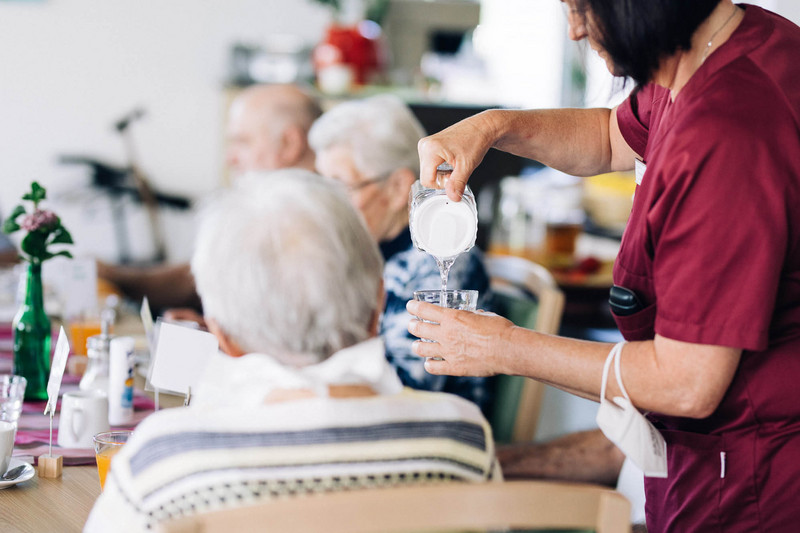 The Christliche Sozialstation in Bad Dürkheim at the edge of Palatinate Forest in southwest Germany supports elderly people in need of assistance and care as well as their relatives. At the end of 2021, it was able to move into a barrier-free new building that finally has enough room for all the services – from everyday care to care for the dying. They have even been able to add new services such as a nostalgia café.
In the whole network, professional experts work together with volunteers from the neighbourhood to ensure that older people with care or assistance needs do not become lonely and, at the same time, can live as self-determinedly as possible in their own homes. In the context of demographic change and the shortage of inpatient care places, the Sozialstation makes an important contribution to the region.
As the space in the former building had long since become too limited for the various forms of support, the stakeholder decided to have a more spacious and barrier-free building constructed. The structure in the newly developed Fronhof II residential area in Bad Dürkheim was completed and occupied at the end of last year. Over 860 square metres, everything is now united under one roof: in addition to the headquarters of the outpatient home care and hospice service, there are also various counselling services and a nostalgia café for the reminiscence work of people suffering from dementia and an outpatient day care.
"With great commitment and support from volunteers, the professionals at the social care centre promote social participation in old age", says SAGST project manager Konrad Lampart. "The new building makes it possible to network the various services even better, which gives a helping hand to relatives in particular, who have to cope with enormous burdens due to daily care and nursing."