Residential School for Inclusive Community Living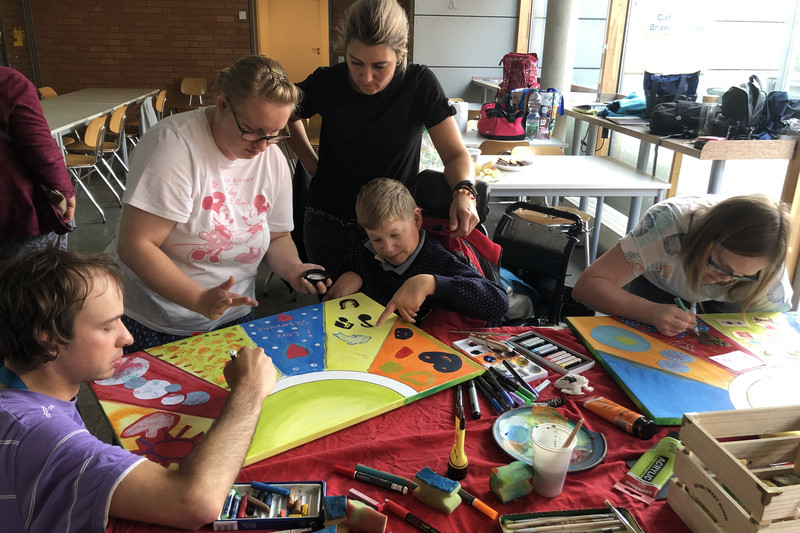 How can people with high care needs also live as normally as possible in the midst of our society? An association named Inklusiv Wohnen Aachen (IWA – Inclusive Living in Aachen) has initiated a project of the same name to offer new opportunities starting in the summer of 2023. In the run-up, the "residential school" is already preparing residents with and without disabilities for everyday life in the shared housing units.
A home is being created here for a group of eleven women and men with various impairments – including three young people with complex multiple disabilities – where they will live together with students without assistance needs. Two shared housing units for five or six people with disabilities and four students form the heart of the modern new building in the Brand district of Aachen. In addition to the individual rooms, complete with a bathroom and small kitchenette, there is also a spacious common area. The terraced floor has additional flats for those who would like to dock onto the inclusive community. If everything goes according to plan, the various units will be ready for occupancy in the summer of 2023.
Residents with special needs will have their rent and utility costs paid as part of their statutory public pension. Assistance and care services will be financed individually through the personal budget and organised via the sponsoring association, Inklusiv Wohnen Aachen (IWA). This association will also remunerate the students who take on 15 hours of simple leisure assistance per week and can rent the living space at socially acceptable prices. In preparation, IWA has been offering a "housing school" – funded partly by the Software AG Foundation, among others – since the summer of 2021. It is aimed at future tenants with disabilities, their relatives and students so they can all get to know each other beforehand and look forward to living together. Practical life topics such as healthy eating or working in the household, as well as information about the district, are all on the programme. "Where can I go shopping? Where are the bus stops? Clarifying such questions in advance and thinking about everyday life in the shared housing units will make it easier for everyone involved to embark on the journey together", says SAGST project manager Konrad Lampart with conviction. "We are impressed by how well this ambitious project has been planned; it can serve as a model for other projects of its kind."