Support for Families: Baby Guides support Couples and Single Parents in challenging Situations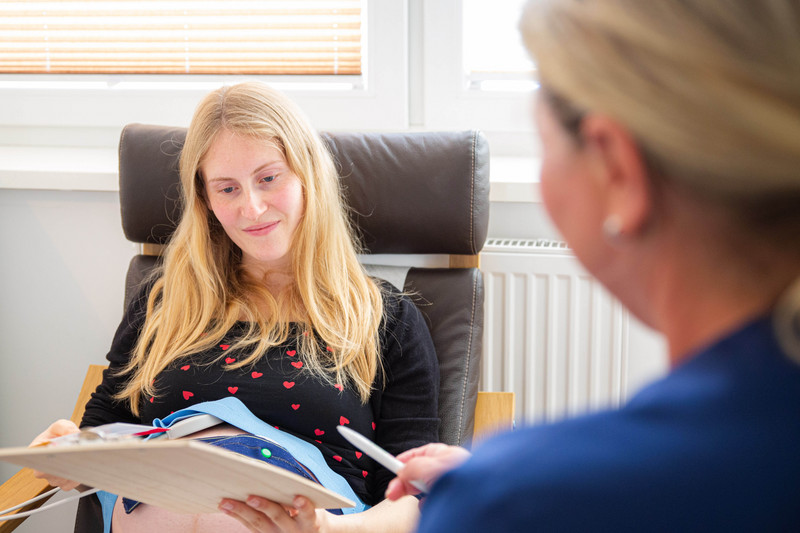 Lack of sleep, a crying baby, suddenly your life has been turned upside down: The first months after the birth of a child can be stressful and full of uncertainty despite all the joy of having a new baby. Am I doing everything right? Is it okay to ask for help? And what are my options if the baby's grandparents live far away or the child's father isn't supportive?
Especially when complicated family configurations, financial hardship or health problems and language barriers put even greater strain on the situation, there is a need for people to stand by single mothers as well as parents-to-be in difficult circumstances so that a feeling of overwhelm does not determine everyday life or prevent the children from growing up in a healthy environment. This is precisely where the SeeYou foundation of the Wilhelmstift Children's Hospital in Hamburg steps in: For about a decade, it has been working with outpatient Baby Guides – usually experienced social pedagogues who assist such families during pregnancy and motivate them to take advantage of further counselling. They arrange for bespoke help, as close to home as possible, in all matters that weigh heavily on the families, establishing a very personal, sustainable support network – on a voluntary and free basis – for each of them, taking the individual situation seriously and activating self-help potential while maintaining resilience in future times of crisis.
Explaining SeeYou's innovative approach, Managing Director Dr Sönke Siefert says, "Maternity clinics and doctors' practices offer easy and stigma-free access to families, making them great central points of contact for early help and other regional support services." That is why SeeYou launched the programme in 2007 at the Catholic Marienkrankenhaus in Hamburg. Since then, it has continued to expand: Today, the Baby Guides are in action in nine federal states at more than 70 maternity hospitals – covering Hamburg, Frankfurt and Berlin – as well as in 32 gynaecologists' and paediatricians' practices. That allows the programme to reach more than 115,700 families per year, which – according to a press release by the project sponsor – corresponds to about 15.5 percent of all births in Germany.
Jana Weische of the Software AG Foundation emphasises that "this means the Baby Guides are making an important contribution to preventive child protection, which – like outpatient services – is becoming increasingly important in the context of the coronavirus. Their empathetic, appreciative and binding support, which sometimes starts with prenatal care, allows the Baby Guides to succeed in doing something that we know from our experience in the area of child and youth welfare to be rather difficult: Families under psychosocial stress can take advantage of support at an early stage and the children can develop in the best possible circumstances despite less than optimal starting conditions."